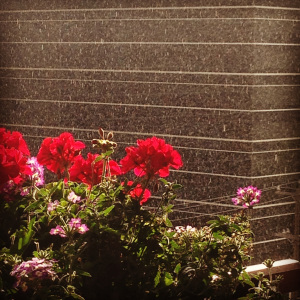 For family and friends of Connie Howard
Shoved back into the world again
(that miserable comforter)
to pickup where you left off.
Except, it doesn't work that way.
This mark on your life is far too significant,
and only by rote, by habit of sunrise and sunset,
do you turn the next page,
your hands shaking,
to read the new words that blur in the salt-swim of your eyes.
And even as your new chapters are written,
you will come back to this passage…for the rest of your life,
for some part of you will step out of time and stay there,
with her,
forever.
Or perhaps it's like this: as much as everything has changed,
and as much as you will change,
her luminous past will overlap your future,
and despite the pain and loss give extra light—twice the light—
often, even, heavening your earth.

For those who have made requests, and perhaps for those who were unable to attend the memorial: Here is a link to the thoughts and the prayer, written for Connie.
And here is a link to Connie's Blog, Sorting It Out, which not only documents, over the last five years, living with cancer, but is a testimony on living, truly and courageously, with an inclination toward celebration.
(The photos above were taken from Connie's blog)