— there is a grim loneliness in a coffee shop on a November afternoon: two doing crossword puzzles, their wheeled-walkers stationed by their table; a sullen girl in the corner with headphones, screen casting up a tin glare on her glasses; a moustachioed man reading a paper—ads ripe with recrimination, news always old—and all of us in these grey sweaters with our empty cups waiting for the bright release of night.
When you know you can't see your friend again — there is a bottomless loneliness in everything beautiful: a low swollen sun shimmering a path on the sea to the cones of your eyes; raindrops caught and clinging to a bare alder branch, then diamonding light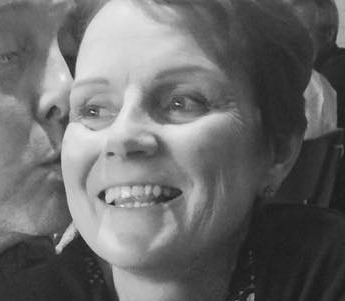 as they fall; the sounds of piano and flute silvering soft percussive arpeggios—and you see her hands; and her smile, a smile of greeting, always in greeting—and laughter, especially laughter.
When you know you can't see your friend again — there is a crushing loneliness in things that remain: in a river running through a city, a path by the river, shoes waiting by the door; in a blue tarp staked to the side of a green hill, a secreted bottle of wine, days of song, emancipating song; in prairie grass, valiant grass and verdant, bent by storms, too many storms, bent by time, too short the time; and in wind passing over a fallen flower, such a flower.
---
Connie, you left us far too soon. But you left us rich in knowing the heart you always left exposed.
Jeff, and all the family, we ache for you.
---