-posted with permission
My friend is dying and I can't get things right, can't get emotion right, can't get grief right, the duration right, the proximity right, can't get my mind right.
My friend is dying and I write nonsense about my religious upbringing because occasionally her and I enjoyed skewering our common religious upbringing.
Or I write dark notes to myself looking to squelch any sign of hope in a line just to prove life is a nihilistic walk on nails, which is to say, just to prove that life without my friend is a mistake.
I want to say transcendence is real, meaning God is real, meaning kindness is real, meaning purpose is real, meaning nothing is wasted, but can't grasp the exact slant of inflection that would make it sound anything better than a bromide.
Which reminds me that my friend knows at cell level that truth and kindness are a package, and I recall how she showed those around her that truth was not only about reality but about timing and intent.
Which reminds me that my friend already knows, past my stumbling, the depth and height of what I mean to say, which is to say, she knows about friendship.
You see, her gift, given freely, is empathy—willing always to bend, lift, walk with others, bearing steel beams of pain and sorrow—and while it cost her greatly, there is in her no regret. And how high that banner now flies, how bright her light that adds to the human shining.
That's why I want to preserve everything about our friendship, make it available, open crocks full in the middle of the coming winters, fill glasses, share it around.
So I make petitions at the foot of the universe, not to stay or delay death, but to beat it down, nullify it with the beauty and the bounty of her life, the life she offered and shared with her kids, her husband, her friends.
So I light candles down at the old Anglican church, little votive candles, that like all of our lives shine thinly and waver in uncertain air. (And as I write this line I feel she will like it, which makes me happy and deeply sad, for she could write lines to make you weep.)
And I speak to waves—the lively waves that reach over the rocks—and I listen to these pools full of delicate botanical mystery breathe out that her heart was too full, which made her vulnerable, which made her beautiful, which made her who she is.
Now I wake early in the monochrome mornings to check the sky for colour, check for the sun's good fire, for birds flying and singing, for white clouds with smiling tigers, for glowing crescents of bright yellow light from a big swinging lantern, for the face of my friend.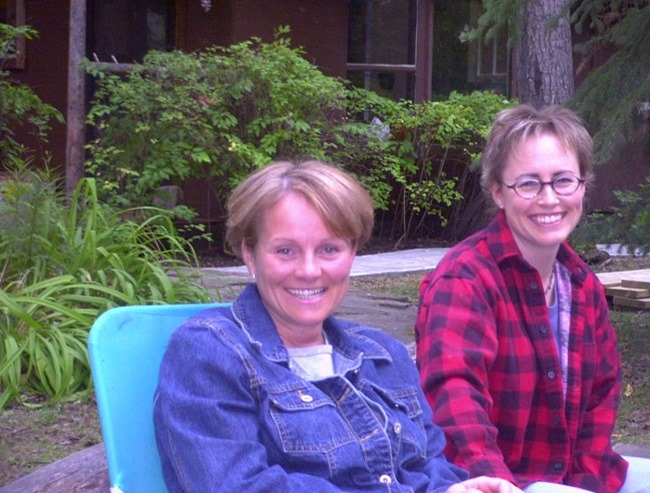 A favourite picture: my friend Connie, centre, with my wife Deb to the side.