As all Grow Mercy readers (the crowd in the phone booth) know, it's not often I hold forth politically. But the spectre south of the 49th has me seeking some kind of catharsis for my internal churn. (As I was moiling, the muse burned.) Writing it out helps. The following then is a sort of purge, and so departs from the usual aim of this blog. You are therefore more than forgiven should you cease reading at this point.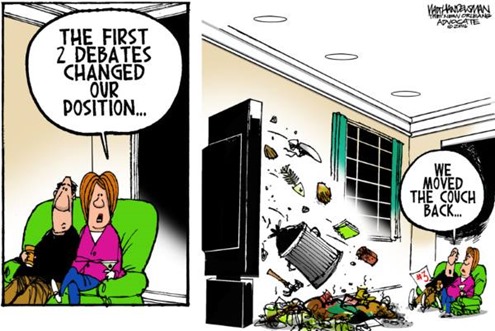 Have mercy upon the American voter: caught in the brown fog of electoral wasteland; caught by the constricting choice, or rather non-choice, of apparent soullessness or warped foolishness; caught with the option of a nod toward servitude to the grand system or acquiescence to abject loutishness; caught in the despair of either a quick or more prolonged national degradation; caught in the horns of voting for someone whose single virtue is that they are not the other person; and finally, caught by the notion, masquerading as imperative, that voting for a third party is a wasted vote…have pity.
But have more for the block of voters known as the religious right—the Christian conservative/evangelical Republican. For wave upon caustic wave of fact-less, bloviating and bilious screed, backed by uber-boorish conduct has finally flayed the faith of even the semi-conscientious—driven them to the other side, or to no side, or to seek life-support for the party itself—and has left those who have remained, de-fleshed, scrabbling and scrambling for shreds to cover their bony essence, that is: allegiance to party before fidelity to professed faith.
Seemingly, less than a generation ago, integrity of character and something called Christian conduct was hailed as the hallmark of a candidate's qualifications. Apparently these no longer matter, or are overlooked, dismissed (as a conspiracy of lies from the other side), excused or even defended and biblically re-storied. Not long ago, a candidate of such low inclination and high exhibition would have been seen, not as viable or suitable for the office of President of the USA, but as an indictment against its very culture—not as some saviour, but as exacting judgement. At best the progeny of Crusty.
In the chilly void of ordinary decency, the clammy pressure of calculated piety, the dank sloughs of daytime gospel shows—their whitened-toothed leaders with their considerable hair urging the flock to vote triumphantly—the brown fog has swept in. Here, one might even pause to recall the Moral Majority's or Christian Coalition's oft and eager smears on that old devil humanism, with tears of nostalgia. I am no Old Testament scholar, but I've read my Amos and have imagination enough to guess what the boiled old prophet might have said about the current candidate(s). And perhaps also about those who clutch gilded KJV's while imagining their man a modern Moses with a mic.
I realize of course that I'm an outsider with a limited view, and I have my own blinkers and biases, but the thing is, this election matters, it matters not only to neighbouring nations, but to our globe. As such, I cannot merely say, what the hell, but must say, have mercy on us all.
---