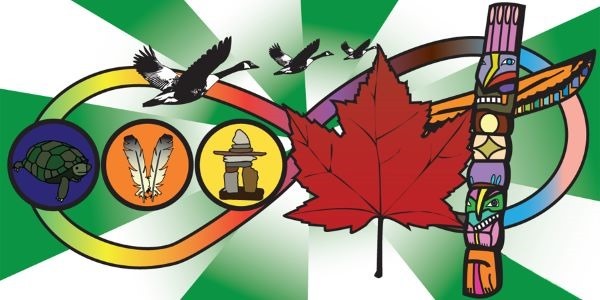 Flag design by Stephanie Morretto
My gratitude runs deep for this country. And in many ways I agree with our Prime Minister, who said today,
He went on to give the reason for this:
"…it's the direct result of visionary leaders, of the courageous men and women in uniform, of the waves of industrious immigrants who have come to our shores, of the decorated athletes who unite us and make us proud, and, of course, because of Canada's families."
So why does it also leave me hollow? Well, because you'd think that by now, on such a day as this, we'd be gracious, truthful and courageous enough to also recognize something of our indebtedness to our First Nations, Metis and Inuit peoples—something of their undeserved forfeiture, their sacrifice and role. And yet, here, in today's brief speech—which apparently reflects the grand narrative of colony to nation in the mind of our government—decorated athletes are honoured…aboriginals aren't mentioned.
And its no good to think we have arrived at the place where an aboriginal presence is assumed in the PM's chosen categories.
After the apology, after all the stories that poured out of the Truth and Reconciliation hearings, on this day, the one day that our PM is given the stage and the attention like no other day, this omission just becomes one more barrier.
Only when Canada Day expressly includes all, will we be blessed.
---