I'm in my office, the patio at High Street Starbucks. It's Tuesday, there's a couple beside me chatting about this year's Folk Fest, talking in reverential tones about one of the workshops they'd seen—Hudson Taylor, Holly Williams and Jim Cuddy…who were, sounds like, purloining hearts and creating bookmark moments.
Music, especially live music, is basic, primary, subcutaneous, it gets in from underneath and puts you touch with a landscape, a memory, a form, a thought newly understood, a love re-flamed, a longing you thought dead.
And when you are on "the hill" and you hear the harmonies roll up, and when the inevitable notes of love and loss are hitting all the right receptors, it's as natural as grass to lean back and let the angels take you sailing out over the river valley.
And that's the thing with a song. You can have some string-bearded eighteen-year-old with a mandolin, riffing like a hatter while punching out a series of iambs in falsetto, or you can have some grit-voiced eighty-year-old swelling and swaling through a mouth-harp solo, then launching into a dirt-blues dirge, and if the song has come to the artist as a guest, if it somehow found its way into the writer's hands and that there wasn't all that much they could do about it other than just play at it until it stood up on its own, well, then you're in the presence of something wondrous.
And wondrous stays under the skin. These are the songs you sing and that sing you through the decades. But here's the other thing, and why Folk Fest's variety is so seemly: it's that some song you think slight and dormant will just as often take root in someone else; and something someone else finds weightless or wingless, will break open your whole day and have you walking with a barmy lilt. These songs may not be around for long, but they were exactly what you needed at the time, and though you move on, somehow they're now part of you. That's the gift of a good song.
There's really very little to argue about when it comes us folk and our music. This doesn't mean that all music is created equal. I think, for example, it's fine (and urgent) to universally condemn J-pop. You know, if you do it nicely. We all bring our ears and they're all spiralled a bit differently, and yes, it's important we use cool doses of discretion, as this is what brings us to a clearer appreciation of a song.
My own biases…and tabernacle moments? Well, last year it was Amy Helm channelling her father Levon and Rick Danko with one of the most devastatingly beautiful rock songs ever, "It makes no difference." (Look up Rick Danko and The Band, 1983 in Japan doing this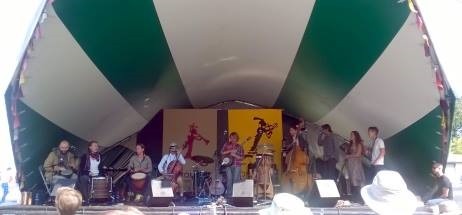 song and see if you don't weep.)
This year, after a remarkable workshop that included, DakhaBrakha and their psycho-schizoid folk music, Elephant Revival, lead by Bonnie Paine, a kind of serene Grace Slick with a washboard, and Jake Shimabukuro playing Bohemian Rhapsody on the ukulele (pronounced oo-koo-lay-lay), and not missing one Queenly part; and after some main stage take-downs like Imelda May, Ben Howard and James Vincent McMorrow, it all came home with Blue Rodeo, playing their entire album, 5 Days in July, while Sunday's supermoon rose behind us.
Venerable is the right word for Blue Rodeo, now as recognizable as any Canadian band. Me? I've never been an avid fan. Even what most call their best album, "5 Days," as Keelor amusingly said, "kind of whimpers out at the end." Agreed. Still, Hasn't Hit Me Yet, which is a kind of anthem, holds me every time—if you'll forgive me—"transfixed under [that] street light."
It's one of those songs that feels as though it came to the writer unbribed. It percolates all the way through, the mandolin intro, the chord progression, the gathering tension of the upturned triads, the simple poetry of universal experience—of a not altogether unpleasant breakup—it's all, "…kinda like those sunsets / that leave you feeling so stoned."
And, well, in all, this year's Folk-Fest was again a kind of luminous trip.
---
There's a collection of fun phone recordings on Youtube of
Hasn't Hit Me Yet,
where Keelor invites the the crowd to sing along. Here's a version though that goes back to the 90's that's quite brilliant.