Do you remember that hydrological cycle diagram you created in grade school? You drew grass and trees and maybe some hills going down to an ocean. You had the sun streaming away in one corner and clouds scattered across the top. Then you mapped in a series of neat lines—dashes with arrows—showing sea water evaporating, making the clouds, and then more arrows showing clouds moving gracefully over land, spilling themselves, making the trees grow, the runoff lapping down to a lake, into a river, and back to the sea, where those glorious yellow rays of sun moved water vapour back up into the clouds, and it all was a wonder to behold. Especially if you saw Jane Pohl's grade five illustration: as though sketched by God's own hand.
Well, anyway, if you still have it, (I'm sure you do), take a red marker to it. Make the lines more intense, bold up the clouds. And that slow overlaid circle that suggests bucolic order? break it up. Make erratic swirls instead. And make more of those dashed lines, many more, make them tight, like on a topographical map to show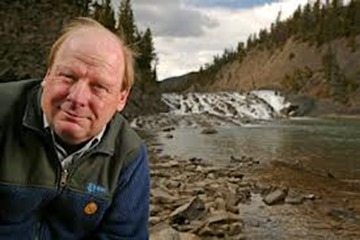 heightened vigour, because as Robert Sandford says—who has these persuasive titles: Director of the Western Watersheds Climate Research Collaborative (WWCRC) and EPCOR Chair for the Canadian Partnership Initiative of the United Nations 'Water for Life' Decade, and who happens to be a resident of Canmore, and who was interviewed on CBC Radio the day after the southern Alberta flood—
"Warming temperatures are causing water to move more energetically through the hydrological cycle, changing the rain patterns, and increasing the frequency and duration of extreme weather."
It's a fact we all absorbed in school: the warmer the air, the more water it holds. In fact, according to the Clausius-Clapeyron Relationship, for every one degree of temperature increase, the atmosphere will hold seven percent more water. But all this extra water creates a problem, it sets off something called a water vapour feedback: a kind of hellish loop where the increase in water vapour, which by the way is a very strong greenhouse gas, adds to the warming already experienced due to the other greenhouse gases, which in turn, increases the amount of water vapour in the atmosphere…you get the picture. And all the extra water vapour in the atmosphere is at the expense of water locked up in glaciers, the snow pack, and in the ground.
Sandford, who is all about water security and sustainability, keeps a close eye on the cyrosphere. And he's worried. There's a major recession happening. Glaciers, all important for ecological balance and stability, are disappearing.
But he's been talking about this for a while. And just last fall a hundred or so climate experts gathered in Banff for a conference entitled, Storm Warning: Water, Energy, and Climate Security in a Changing World.
It was Stanford, who had come from just down the road, who brought a rather dire message regarding the effects of rising temperatures on the snow pack and on the hydrological cycle. He gave a talk called, 'The Snows of Yesterday and the Future Water Supply of the Canadian West," outlining how all this stuff has given rise to what he and other hydrologists call 'the loss of hydrological stationarity.'
"It's clear that the trend is continuing and we're now very concerned from research that has been collected that it might be accelerating," he said. "If we had this conference 10 years ago we'd still be dealing with projections with a lot of anxiety about how accurate the projections were. We're no longer looking at models — we're seeing widely demonstrated examples."
He was referring of course to events like hurricane Katrina, super storm Sandy, the 2005, 2-hour, 700 million dollar storm in Toronto.
When asked about the causes of this past week's flood, Sandford talked about the loss of Arctic sea ice and snow pack, giving way to massive water vapour rivers—atmospheric rivers ten times the size of the Mississippi—moving water around the world…and to places where it doesn't usually go.
Here in Alberta, the 2005 flood was called a once-in-a-century event. Last week's flood was called a once-in-a-thousand-year-flood, by a government official (didn't catch the name). Wish it was true. But according to Robert Sandford, we can begin to expect these once-in-a-century storms, floods, droughts, far more often. Extreme, says Sandford, is probably the new norm.
To hold assumptions about the relative 'stationarity' of our climate is now foolhardy and indefensible. As for those computer models on how wind and water will behave, well, it's back to the white-board.
Still, Sandford is not without hope. Although at this stage, fixing the problem will take more than reducing carbon dioxide emissions. It's a matter of slowing the trend, working, with great efforts, towards restoring the ecology through a collective will. And adapting.