There it is again, that weight beneath the stomach that presses down and tightens around organs, constricting heart and mind. Yet again, the helpless knowledge of lives ending in the cauldron of a spectacular kind of violence.
This time, Boston. A race. A transnational event. Marathon runners, humans at the extreme edge of physical health. Runners and their friends and families from across the globe.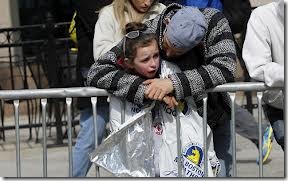 Heightened grief: two hours before the blasts, runners and onlookers stand silent for 26 seconds to observe the memory of the Newtown massacre. Some children and parents from the school in attendance, some of the runners raising money in support.
Whatever the motives, and they are assuredly mad, or madly religious and ideological, the event, the scene, the timing, everything is calculated for effect, for fascination, exhibition, spectacle.
The coverage is immediate and worldwide. The words of the President come as quickly, appropriate and predictable.
But this morning we hear how people at lunch and waiters and waitresses came out from the cafés, running with napkins and towels to the the injured. Their own vulnerability forgotten. And for all the inhumanity of terror, and in this burgeoning temptation to break faith with humanity, to cash it in and cocoon in hate, this hit will dissipate, the pulse will come back, the air will return to the lungs, through witnessed human care and kindness.
So too will awareness rise: that our own disbelief, our genuine shock, our open-mouthed 'whys', our confusion and anger and grief will act as it always does, as a great counterweight to the temporary lure of nihilism and emotional isolation.
In shared grief and small kindnesses, we carry towels to one another.