Recently our federal government cast doubt on the validity of thousands of same-sex marriages while saying that they have no intention of reopening the debate (same-sex marriages were enshrined into law under Paul Martin in 2004). Is there a fly in this soup?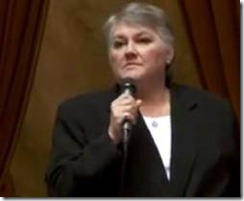 Four days ago across the 49th, Washington State, after rounds of thermal debates, became the seventh state to legalize same-sex marriage.
I remember the debates back here swirling at the foothills of our 2004 federal election.  I remember the vitriolic reports coming out of the town hall meetings. I remember responding in our town newspaper (a decision that put me on notice among some in my church).
I recall watching Question Period and the scrums—all the fulminating, the barbs, the squeaky soundbites, the "facts" about homosexuals, the flourishes of rhetoric about the new demon on the back of traditional marriage.
I recall much of this, but I don't recall a speech quite like the one by Washington State Representative Maureen Walsh, a Republican, who stood to give an unpolished and deeply personal address, that perhaps, though her sensitivity and humour assured the passing of the bill.