'Twas the night before Christmas, when all through the condominium
Not a participle was stirring, not even an idiom…
        …that's all I got.

We're having a condo Christmas this year, son Justin is home from the misty coast; Daughter Teryl (who just finished her bachelor of science) and entrepreneurial Jordan, Musical son Mark and Blackbird Amanda will be 'round about; Deb, my wife, (who just got a job as staff manager of the Spady Centre) will be around as well:); a few weeks ago we spent a fine weekend with son Lucas and Jamie and granddaughter Madison ("motored to Saskatoon" as Julia Y. would have so aptly wrote it up in Local Happenings in the Yorkton Enterprise); as for eldest son Michael, we'll be Skyping him in from Japan. (Awhile back we "Skyped" in a hockey game with him—the hockey game, that Olympic one—not long ago we Skyed an entire game of Monopoly with Justin, just a matter of getting the camera angles right. But he took too much pleasure in the win…so we're wondering about the camera angles.)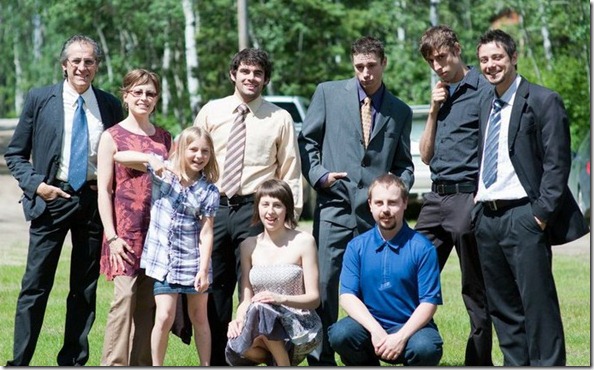 But on this Christmas eve, dear reader, I'm finding that the older I get the more I want to plant myself in earth and family and friends. I'm pining for dirt in my ears and creased smiles over mashed potatoes and thinking that the closer I get to the microbial mass of humus and the hug of a sister or brother or mother the nearer I sidle to something eternal.
And the closer I get to that still point, the more I know I rely on ties. The immediate ones like Christmas with kids, New Year's with friends. And the looser ones of memory—memories of you, to the memories of jokes my late Dad used to tell down at the Springside Sask. lumberyard like: Fellow comes in, says to the lumberyard guy, "I need some four-by-twos." "You mean two-by-fours?" The man says, "Ah, let me check," and goes back to the pick-up truck, his buddies roll down the window and they confer a while. He returns and says, "Yeah, I meant two-by-fours." Alright. How long do you need them?" The man thinks for a bit and says, "I'd better go check." After conferring again, he returns and says, "A long time. We're gonna build a house." And that would crack 'em all up.
These ties of matter and memory do matter. So thank you dear friends. And thank you to anyone and everyone who reads and/or responds. Know that my embracing thoughts are on their way and even now are arriving under your doors and settling upon your Christmas trees.
And on this eve of yet-another-Christmas for we ripe ones, and on this eve of a still-new Christmas for you suppler ones, have a wonderful Christmas.
After all, and for us all, ripe or supple, Christmas still signals the Incarnational mystery of "God with us"; the beauty and fragility of earth and family; the hope and sign of friendship and everlasting peace; and the wonder of resurrection, through the birth of baby.
May you all, dear friends and family, celebrate well and celebrate hearty, and have many fishes and loaves left over.