While I am occasionally red-eyed, I do not speak for the red-eyed vireo. And while I sometimes crow, I do not crow for the sparrow. They have their voices. As does the chestnut-sided warbler, northern waterthrush, common yellowthroat, white-throated sparrow, song sparrow; there are more. And when you go birding in Vermont's early-morning mist you see them all through the auditory acuity of David Brown.
Take the common yellowthroat who goes, as Dave says, "witchety-witchety-witchety." Or the northern waterthrush's twit-twit-twit; sweet-sweet-sweet; chew-chew-chew. The white-throated sparrow was heard, but not by me; it may have stirred a sentiment as it sang, O-sweet-Canada; Canada; Canada. Then there's the olive-sided flycatcher, who demands, Quick; three-beers! The song sparrow: Maids-maids-maids-put-on-your-tea-kettle-ettle-ettle, is fine, if you're into it; but they all take an prudential back seat to the May West of avian burlesque, the confessing warbling vireo, who says, If I sees you; I will seize you; and I'll squeeze you till you squirt. Bird porn said one observer.
It's a choir. Randy and sublime. And if you listen with your eyes and see with your ears as well as David your very attentiveness advocates for vireos and sparrows. Advocates for air that's ringing with song. Advocates for the earth—to be given a berth.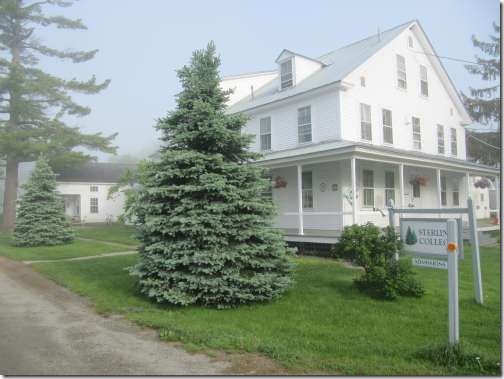 I'm in Vermont, at Craftsbury's Sterling College, I'm singing out in this writerly choir—like the avian choir, its randy and sublime.