A generation ago, or less, the commodification of water was not something that entered the fevered minds of even the more radical conspiracy theorists or the most rabid of activists. Well, big changes percolating.
Last night, (by the by, yesterday was World Water Day) attending the "Public Trust Doctrine and the Future of Water in Alberta" at the U of A, we were schooled by Michigan-based attorney and public trust doctrine advocate Jim Olson and Mr. Donahue, an assistant of water expert Dr. David Schindler.
Water, says Big Money, is, well, big money. And there is much jockeying by mega-corporations to move us, drip by drip, toward water markets.
Oh, but not here in Alberta surly. Well, as it happens, "Since 2008 the Alberta government has been reviewing the provincial water allocation system, with indications that it intends to introduce a province-wide, largely deregulated water market when it updates the 1999 Water Act. Despite widespread concerns about leaving decisions about who will be able to access water up to the open market, the provincial government has over the past two years almost completely ignored non-market alternatives."
Enter the "Public Trust Doctrine": "Many jurisdictions around the world — from India to Vermont, Hawaii to South Africa — are taking an alternate path in water management, basing their water allocation systems on a concept called the public trust doctrine. The public trust doctrine focuses on the protection of ecological values and on ensuring water for future generations by striking a balance between the public interest and private use of our collective water resources."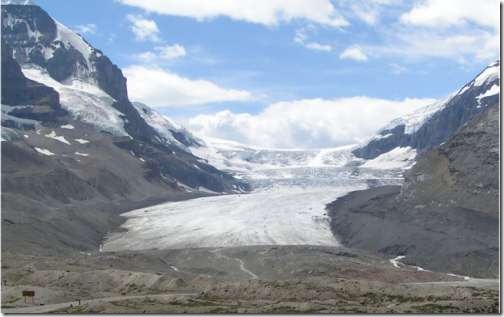 (Fast-melting Athabasca glacier – picture by Ben  W. Bell)
Last night we were informed (the data is overwhelming) that it is a critical time for water in Alberta. Rivers are over-allocated throughout the province. Certainly, there are grave concerns about the impact of tarsands operations on water quality and quantity in the north. Add in the predictions of climate change, accelerated glacial retreat, a dropping water table, increased population, and so on, and we, here in ample-Alberta, are moving towards a water crisis.
Here are a few organizations that are advocating for a home grown public trust doctrine regarding water management: Our Water is Not For Sale network, Parkland Institute, Public Interest Alberta, and Council of Canadians Edmonton Chapter.
If we act now, a generation from now, the fevered minds might be on other issues.