Millie Glick is a teacher, a pioneer and an adventurer. With her husband Ike—also a teacher and adventurer, and fortuitously, a bush pilot—she spent many years travelling and teaching in northern Alberta at a time when roads were scarce or nonexistent. Millie is also a naturalist, a quiet activist for the rights of indigenous peoples, and a gardener, and while she would consider herself retired from some of these vocations, her passion for all of these things still spills over and infects those around her, and in turn, her corner of the world.
Millie is also a poet who writes for her friends and family. Below is a poem I persuaded her to let me post. I'm privileged to be counted as one of her friends.
In A Place Apart
You're aware, Lord, that I wasn't in church on Sunday. Instead I communed in your cathedral of trees and sky.
My heart sang in concert with a robin's song, the staccato of the pileated woodpecker, the conversing of the pines in the wind and the swish of owl wings at dusk.
I thought of family as a mother skunk and three young'ins rippled their way across the clearing—intent on destination.
I thought of my Love's devotion as a pair of wood ducks swam side by side in the dugout, he casting a cautious eye at me, a protective glance at her.
I thought of life's sweet moments as a hummingbird jetted in to sip delphinium's nectar, then streaked away too soon.
I was humbled by the openness of the wild rose, and its beauty fed my soul.
Thank you, Lord, for this time and place . . .away from the ofttime fragmentation of life with its mishmash of this and that.
My soul rests—here—with you.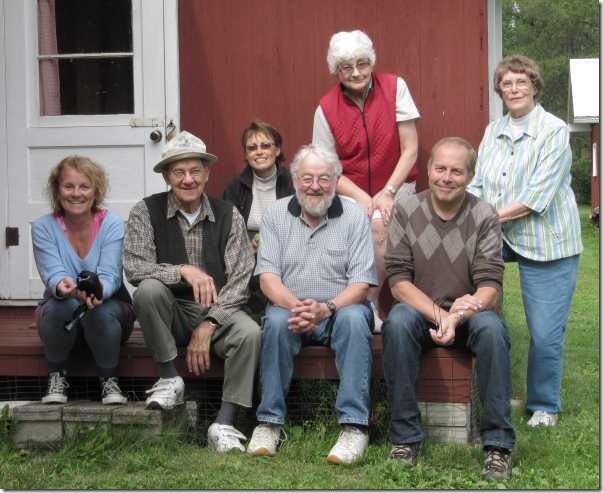 Millie, far right, with some of her friends.