In 2000 Edwin Tuts sold a painting for $26,000. In 2006 he was selling similar pieces for $100 each—to fuel a drug habit.
Today, says Tuts, "Every brush stroke that I do, every painting that I do, I try to create for God. I try to be an open channel for God."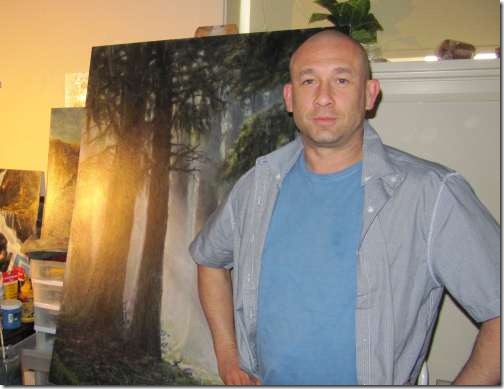 At five years old, Edwin Tuts knew he was an artist. "My mother was an artist and I loved watching her paint," he recalls.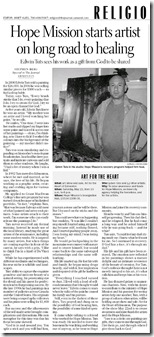 He smiles, "One time, I went into her studio and dipped my finger into some paint and traced it across one of her paintings — oh no, I'm thinking, now I have to fix it! I worked the colours into the background of the painting—my mother didn't notice!"
Tuts was soon simulating and expanding on his mother's own elegant brush strokes. In school he drew portraits and intricate cartoons and sold them to other students. He laughs, "I had a lot of money when I was a kid."
In 1992 Tuts moved to Edmonton, where he met and married, as he says, the love of his life. He began working as a graphic artist, creating and crafting signs for various companies.
He applied to Grant MacEwan College's fine arts program but was turned down because of his limited portfolio. "In fact," explains Tuts, "that was because I always sold most of what I painted and never took pictures. Some artists attach to their work; I'm someone who can easily release the paintings I do."
Tuts never received any formal training. Instead he made use of the local library, studying the great artists of the renaissance, including some modern works. He is inspired by many artists, but when things are coming together in front of the canvas, he says with a grin, "I like to think I'm in a kind of Da Vinci zone."
While he has experimented with different mediums and techniques, his true niche is wildlife and landscapes.
Tuts' ability to capture the exquisite grandeur and intricate beauty of a natural setting, his penetrating eye for detail and his quest for perfection lead to burgeoning success. By the late 1990s he had paintings in a number of galleries across Canada and the United States. His originals were being scooped up by collectors and his prints were selling for $1,400 each.
But success and the allurements of the self-made artist brought complications and distractions. His own metaphor for this time was that his focus became skewed.
"God is in and around you. You split a stick and you will find him, you turn a stone and he will be there. But I focused on the sticks and the stones."
Tuts could see what was happening but confides, "It was like I couldn't stop myself. I started using, my painting became stiff, nothing flowed. And I started pushing people away. I was losing my mind; I was losing my heart."
He would go backpacking in the mountains to reconnect with nature and to centre himself, but would come back to the same sabotaged relationships and the same self-loathing.
His life snarled up. He lost his wife and family, he began using drugs heavily, and with it, lost inspiration and despaired of the gift he had been given.
"Everything I touched turned to dust. I lived with a load of self-condemnation that I thought would never leave." Edwin comes to tears when he talks of the pain he caused his family and his parents.
Still, even in the darkest of those days, Tuts prayed and clung on to the possibility of God hearing him, the possibility of some kind of opening.
It came while talking to a friend who worked for Hope Mission. Tuts was ready. He needed to leave the basement he was living and working out of anyway, so he went to Hope Mission and joined its recovery community.
Months went by and Tuts saw himself progressing. Then his dad died, and he relapsed. But he had come a long way and he asked himself why he was going back — and for what?
Tuts says, "I could feel my dad crying inside me; I knew what he'd want for me. So I continued in recovery. If God has a face, it's through my dad."
His life and his gift have been restored. The emotion now reflected in his paintings shows a mature delight and an intimate reverence of the beauty of creation. For Tuts, God's embrace through Christ is not merely integral to his art, it's what calls him and keeps him at his vocation.
He has donated prints to numerous charities. Now, with his desire to contribute to the ministry of Hope Mission and his passion for seeing artists help one another, Tuts, with a group of a dozen other artists, will be holding an art show and sale: Art for the Heart of Edmonton. The purpose of the show May 22nd is to create awareness and raise funds for artists and the Hope Mission.
"I see it as a circle; my paintings are gifts, they come to me through God, I let them go, and through others I give them back to God."