The demonstration and outrage at the University of Ottawa, that prevented Ann Coulter from making her address has backfired. She has, because of liberal outrage, been catapulted across the Canadian political horizon. Like this is something we need? What's more, the hoo-ha has given Ezra Levant license to chastise Canada for its decaying decorum and disregard for free speech.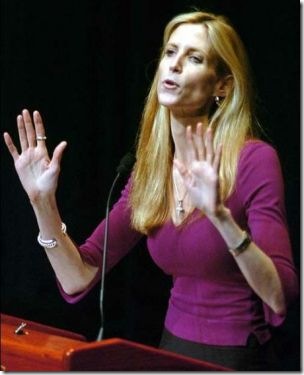 Yes I suppose, as CTV's Tom Clark described her, Ann Coulter is (how many times has she been described as this?) a lightning rod, that, well, invites lightning. And yes, while there is justification to do more than simply groan about her three-city tour, preventing her from speaking turns her visit into a hard-right victory lap.
She plays the politics-of-resentment game better than anyone. Didn't vice-president Houle of the University of Ottawa, who sent Coulter the prescriptive e-mail think that she wouldn't counter by charging the University with hate crime—as spurious as that is? Yes of course the irony is odious. She has left a contrail of volatilizable prate in her wake, all later defended as I-was-only-joking.
But the calamity is not Coulter's visit. The calamity is that believers in liberal ideals have become her mirror double by scapegoating her. Scapegoating is her territory. Pinning the woes of the west upon "Godless liberals" is her wasteland. Why occupy it with her? Miss Coulter has, and will continue to craft her own undoing. Her own fashioned outrage, which she preens and polishes relentlessly, in the end, always shows itself flaccid. Left to her own hyper-hyperbole, she will always fall wide of the mark. Why legitimize her? She will justifiably banish herself.
If we want Ann Coulter and her "creed-screeds" to go away, let's keep our fascination in check. Our eviction of Miss Coutler makes her out to be a victim of free expression, over which she salivates, and sells even more of her flak-tracts.
Ann Coulter is a brilliant strategist for her own cause; and it clearly is—for all her deference to the GOP—a Coulter-cause. And her Christianity, as far as I have seen, is at once pedantic and inscrutable. Still, she is highly intelligent, and in this she far less than she could be—as a Christian and a commentator.
What's to be done? Let her come…then, let her leave.