I watch, with millions, the spinning symmetry, the aerial magic, the split-second speed of the super-bodies—and I see the pain around the eyes from a flood of lactic acid, forgotten in the exaltation of everything coming together at the right time, culminating in a personal best, a first, a gold. This is not, man-on-skates-goes-real-fast. It is, in it's purest form, a celebration of the body as temple. And it's as inspiring as a new idea. And I, like millions, am caught up in the spell of sport—the Olympiad—the Olympic spirit.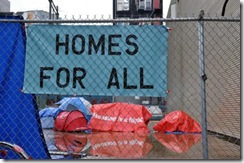 The problem—and it is always the problem of any gathering rooted in fascination—is with the money changers that hang around the temple. That so much planning, energy, creativity, imagination, not to mention time and money (six years and six billion dollars) can be concentrated on a 17 day event with only rudimentary forethought for the bodies of the displaced, shames the enterprise.
For example, according to Dr. Christopher Shaw in an interview with This Magazine, the 250 units (Athletes Village), once promised for social housing, will now have to be sold to recoup a mushrooming 60 million dollar operating budget. (This needs watching.)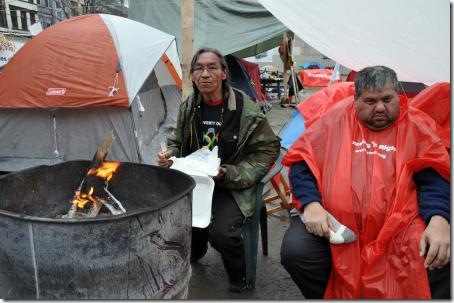 That the IOC, a country unto itself, is never burdened by social cost, that developers are subsidized but seldom bound to social welfare considerations, that aboriginal communities have been split by money and promise, that tokenism is no where near dead, that governments continue to talk a good game–is the detritus left over from the supposed legacy. And that's the tarnish.
It's time to give the Olympics a permanent venue. It's time to focus on the fun and beauty of sport for its own sake. Most of all it's time to realize that, as Vancouver resident and tent-dweller-for-a-night Gillian Young says,
If we can't take care of our brothers and sisters, then we're not going anywhere.