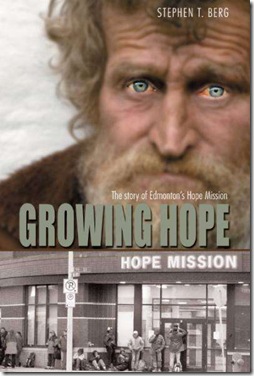 The writing of Growing Hope – The Story of Edmonton's Hope Mission began about six years ago, sat relatively dormant on a computer file for four years, then it was taken out, dusted off, and over the course of last year, Hope Mission's 80 Anniversary, it was completed.
For the most part, this book will hold interest primarily for those who have had some intimate contact or at least some association with Hope Mission.
Growing Hope is what it is, a custom published, humble little work. It was, nevertheless, something like a labour of love. It wasn't sponsored and I wasn't asked to write it, but somewhere along the way, because I fell in love with Hope Mission, and the mission to raise the broken poor to dignity, I felt constrained to put the stories down before they disappeared. These are the stories of people who also fell in love—then grew to love Hope Mission—through faith in a God of compassion.
Growing Hope's tone, like the Mission itself, is a blend of evangelical witness and social compassion. Still, overall, it's a history book and so recalls the stories that brought Hope Mission through 80 years of service and ministry.
These are stories of the pioneers of Christian social care in Edmonton. Stories of Hope Mission's matriarchs and patriarchs, disciples and offspring, largely told in their language—told within the central view of Hope Mission, that a spiritual awakening through Jesus Christ is a requisite for holistic healing.