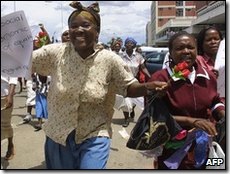 Magodonga Mahlangu and Jenni Williams are incorrigible unrepentant criminals. They are enemies of the state! And their pernicious influence is growing among hundreds and thousands of Zimbabewan women. And now, over the past couple years, the men are being drawn in!
What? Why? Since 2003 Magodonga and Jenni have lead hundreds of protests, been beaten, strip searched, endured unbearable conditions while in jail, and threatened worse upon release. Their response is to get back up, organize, return, and peacefully, yet audibly and visibly, protest.
And that, in a nutshell, is the WOZA (Women of Zimbabwe Arise) solution to Robert Mugabe's murderous repressive rule–tough love based on principles of strategic nonviolence. They get in the road, call for justice, sing, chant, go limp when dragged away, but never strike back. They say that WOZA creates space to allow Zimbabweans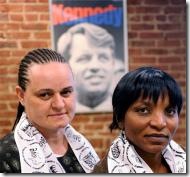 to articulate issues most are too fearful to raise alone. Well, they are no longer alone. Over 70,000 Zimbabweans have signed on. Many enduring what Magodonga and Jenni have endured. 
The two women have been honoured. Yesterday at the White House Obama presented them with the 2009 Robert F. Kennedy Human Rights Award.
What now? They'll go back and continue to act upon a hope and a belief–WOZA's litmus test or experiment in truth–that the power of love can conquer the love of power.