We lit candles. We held silence. We walked. We sang. We prayed.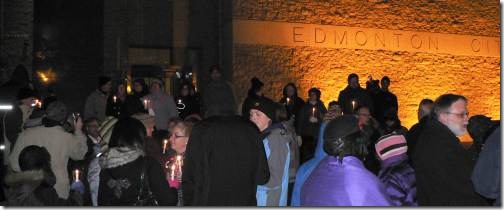 Last night, on Edmonton's inaugural Prayer Walk for Peace we wore white doves and we remembered.
I went because on Remembrance Day I wanted to remember our soldiers, but I wanted to remember soldiers on both sides of war. I wanted to remember all victims of war and violence.
We were over a hundred strong. Mennonites, Quakers, other Christians for active nonviolence, brought together, not to demonstrate or to protest Remembrance Day, but to open it up to broader possibilities.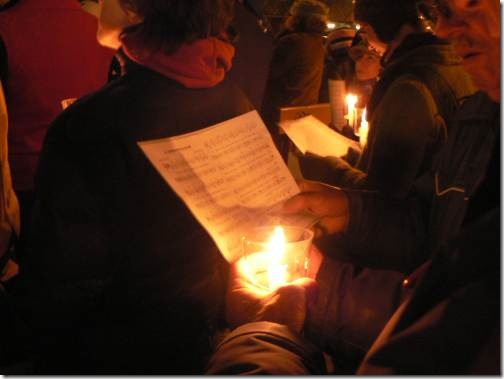 To not only remember, but to light up the message that there is no glory in war, that there is no peace as a result of war, that there are no just wars, no reasonable wars, that to remember only our side, only our own soldiers, is often used as justification for more war.
And so we stood and lit candles on the steps of city hall, considered a world beyond violence at the Gandhi statue by the Library, prayed for our policy makers at Canada Place and sang Francis of Assisi's hymn–considering our own inner peace–at the war memorial on Jasper Avenue.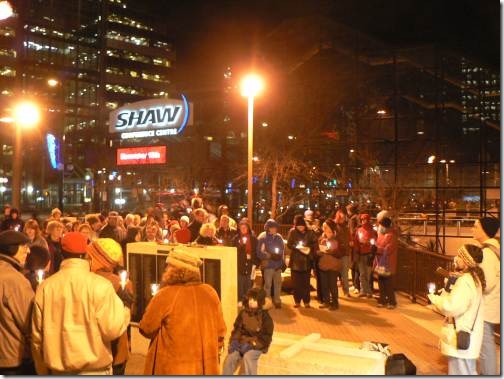 See you there next year.