Every place has its beauty.  But Kauai's beauty struts. It's almost indecent. Nothing subtle. Everything's on display. A luxuriant lei bedecked trench coat thrown wide open–its liner, succulent with blossoms.
Kauai is about all or nothing beauty. If it can't be dazzling, it seems to say, bring on old Wai'ale'ale' and cover me in lava rock and black ash. Give me Bali Hai and the celebrity of South Pacific or give me anonymity. Give me fire-cracker red Hibiscus or give me death.
But death by volcano isn't likely. Kauai is the oldest of the chain of Hawaiian islands and so has drifted the farthest off of the continental hot spot. But age hasn't changed its provocative ways.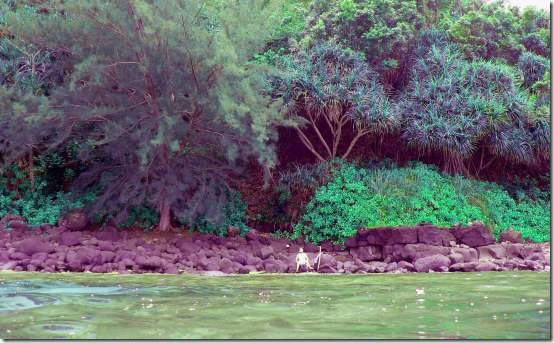 It lures you with guava and mango. It drapes itself in velvet green grottos, it rouges itself up in pink Noon flowers, and gowns itself in a flowing kaleidoscopic rainbow of sea life. Not enough? it accessorizes. Pearl strings of water fall from its basalt neck, circle and run down every cleaved island outcropping. While on a beach walk we spotted a hint of a trail. Navigating past banana plants, screw pines, a dozen species of palm, and ten foot blades of Iliau, found us at the base of an 80 foot ribbon of water. Just like that. And on the way back we noticed head-high plant stalks supporting leaves the size of dinner tables. It's no wonder Jurassic Park was filmed on Kauai.
The island is one great fragrant Plumeria ready to turn African tulip, jasmine or jade, ready that is, to be anything you want. Promiscuous beauty.
The local ads have this thing about this being Paradise. Of course Kaua'i, is known to be the "Garden Isle", so okay, the garden of paradise. And who's to argue. Not me. Even their wanderlust chickens, of which there are a Polynesian ship load, are feathered out in okra greens and vintage tans and midnight blues.
Kauai…if you got it, flaunt it.