We all signed the Care2 petition, felt good about it, and hoped that some kind of "law of attraction" would kick in and get through to the topsy-turvy head of Kim Jong-II–perhaps turning his mind to beneficence and mercifully releasing the two journalists. Then,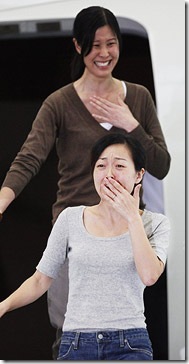 yesterday, news came down that Laura Ling and Euna Lee, who were arrested near the North Korean – Chinese border in March while on assignment from Current TV, were onboard a plane with Bill Clinton, heading home to California.
So what happened? Diplomatic coup for Clinton or propaganda victory for Kim Jong-II or a bit of both?
Just before it got the place where Ling and Lee were sent out to do 12 years of hard-labour, Al Gore, co-founder of Current TV, placed a call to Bill Clinton. (Recognize here that Kim Jong-II made it known that he wanted a high-level visit if there was to be any progress toward a pardon. Yes, Laura and Euna were pawns.) Bill agreed to intervene. About the same time Pres. Obama wished Clinton well on his "independent" mission.
In the mean time Bill was either miffed or amused, that, after Hillary said that the N.Koreans didn't have any friends, KJ-II called her a "school girl." (You'd think that when it comes to nuke-dialogue the level of seriousness would be reflected in language)
Not taking anything away from the earnestness with which Clinton approached this task, I suspect he was secretly delighted about jumping  back into any kind of political slurry. No matter, the mission succeeded brilliantly. Main point: the journalists are home.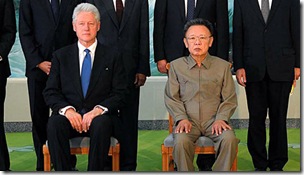 But give Kim Jong some notice because while getting more and more codgerly, he still retains his fox-badger sense. He's clever enough to know that after the pardon he's earned some grace-coupons. And with those he'll be able to deftly short-circuit the pressure to participate in the six-party nuclear talks. This of course is what Obama hoped to avoid by publicly denying any state-sponsored connection. Naturally Obama wants to keep these two things, the nuclear non-proliferation negotiations and the Lee-Ling pardon, completely separate. Kim sees it the other way around and knows that these things run into each other. For KJ-II, it's all on the table. Now, he'll go straight to Bill when the time comes, and Bill, with feigned reluctance will be there. 
Well, again, the sweet upshot of the whole affair is that the journalists are home, safe; and peace, although thoroughly provisional dawns for another day. And the new cold war is mercifully still cold.