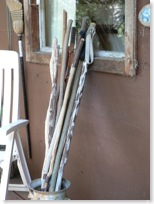 Friday's here and with that my weekly Vue Weekly purview.
Of particular import is this week's Well, Well, Well, column. (Can you tell yet I'm a fan?) Ah, but especially this week. It's right up my perambulating alley.
Check it out here. Then grab your scrambling stick and get your butt outside…and promenade, saunter, or just stroll your way to well-ness.
Oh, and here are a few pics of last weeks hike down to Mystic beach. (with Deb, my sis Joanne, & Dan)