Under the Oregon blue sky lives the Pacific. At its edge–between scores of capes and smaller spits of land–are broad 20-mile swaths of white sand. Batches of beaches.
And just off shore are the needles and sea stacks–mocking endless waves with their basalt personalities. Eventually they'll succumb. But in the mean time they give lodging to puffins, black oyster-catchers, cormorants and murres. There's a whole promiscuous community that shacks-up on these rocks.
The most famous sea stack is Cannon Beach's Haystack Rock. Eroded by a million photographs, Haystack does enter the wonder scale. It's a massive piece of volcanic detritus. And walking the beach it acts as an ocular magnet–perhaps an oracular one as well.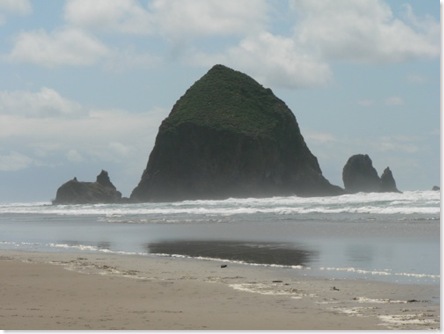 I'm ready for oracles. At long last. The mind mist has cleared and I'm back in love with the earth. Back in love with all the things you can't own, and happy things are that way.
Also, here among the sea lions and sea stars and anemones, judging by the signs, live a group of scrambling real estate people. Signs of the time perhaps. Cottages are the first to be released. But the sweet thing about Oregon is that there is no private ownership of any of the beaches. The sand and cliffs are for everyone.
The tourists (funny how one never really thinks them self a tourist) are only now beginning to splash the byways. May's smattering will turn into summer's haul. A necessity for the small towns along the coast. And that's fine.
The Bella Espresso in Cannon Beach steams out a hearty Americano so I'm not thinking about the down side of anything. I'll leave that to another time.