Passion week is upon us (for those of you who follow the Christian liturgical calendar).
At the same time on the front page of our city's principal newspaper this morning was a picture of a tank–apparently not just any tank. It's Canada's new Leopard tanks. In the Journal's online edition you can take a virtual tour of the new medium force weapon. The captain in the video says the Leopard 1 C2 tank "will strike fear in the hearts of the enemy."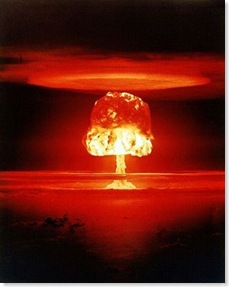 A bigger gun "story" with a greater alarm quotient is North Korea's provocative  long-range missile test, coming as it did a couple hours before Obama's speech in Prague yesterday, where he announced to work toward eliminating nuclear weapons. But Kim Jong-il's missile test is also evocative of the possibility of planetary destruction.
Today, the Cold War has disappeared but thousands of those weapons have not. In a strange turn of history, the threat of global nuclear war has gone down, but the risk of a nuclear attack has gone up. More nations have acquired these weapons. Testing has continued. Black markets trade in nuclear secrets and materials. The technology to build a bomb has spread. Terrorists are determined to buy, build or steal one. Our efforts to contain these dangers are centered in a global non-proliferation regime, but as more people and nations break the rules, we could reach the point when the center cannot hold.
The center not holding is another way of saying that in the event of a rogue nuclear attach, the contagion of violence set off, could just as likely go global.
The cold war, narrowly defined, may be over, but the surreptitious one rages on (as do all the hot ones).
But here I want to give Obama credit for the way he ended his speech:
There is violence and injustice in our world that must be confronted. We must confront it not by splitting apart, but by standing together as free nations, as free people. I know that a call to arms can stir the souls of men and women more than a call to lay them down. But that is why the voices for peace and progress must be raised together.
Are we at that place yet, where we either denounce war entirely or face annihilation?
Violence as the path to peace, is still the most intransigent of political and societal doctrines. And it is the foundational lie uncovered by Christ's passion–and not Mel Gibson's version of Christ's passion.