I was pointed to the art of Chris Jordan by a friend, currently doing her eco-part by living in a van in Hawaii, only to return to live in a van when the Lotus-land temperatures are temperate.
Anyway, Running the Numbers takes a run at contemporary American culture, turning statistics into startling images not easily forgotten. And that of course–for us statistically uncomprehending–is the point.
Each image portrays a specific quantity of something: fifteen million sheets of office paper (five minutes of paper use); 106,000 aluminum cans (thirty seconds of can consumption) and so on.
Visually astonishing and socially activating–here's an artist you'll want to keep track of, because as a reader of growmercy, I know you care about our earth.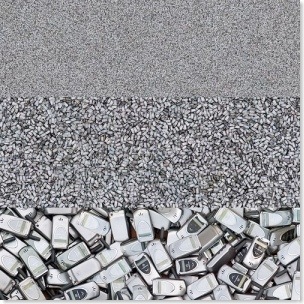 As Chris Jordan explains,
My hope is that images representing these quantities might have a different effect than the raw numbers alone… Statistics can feel abstract and anesthetizing, making it difficult to connect with and make meaning of 3.6 million SUV sales in one year, for example, or 2.3 million Americans in prison, or 32,000 breast augmentation surgeries in the U.S. every month.