No other place, no other time, would I consider leaving backpack, camera, and other belongings on a tarp while 10,000 people wander by. But it's Folk Fest time in Edmonton and baser human elements are left at the gates.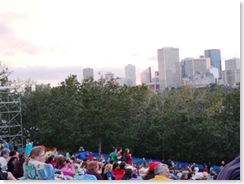 Suburban suspicions and urban hides are shed and the micro-culture inside becomes largely free of cynicism, workaday rancour and obsessive security. It all seems to be swallowed up in the spacious moody melody of Cat Power, or spun off the hips and hula-hoops animated by the driving Mali-pop rhythm's of Amoudou and Miriam.
It's possible, when the swelter abates, and you're prostrate on a grass hill, the deep groove of Aimee Mann's Save Me rolling over you, to dream of "world peace." Viva folk viva fest!