The valency of comfort plus fashion has finally come to the sport of competitive eating.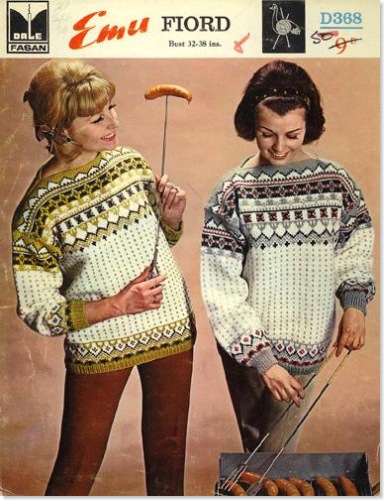 Marcy and Margo may not be in the league of Korea's Kobayashi or America's Joey Chestnut (66 hotdogs in 12 minutes) but when it comes to gastro-fashion they have no peers.
The stunning voluminous Emu sweater, pregnant with judge-appealing pattern, will ensure every bulge stays hidden. At the same time, while every drop of blood races to your gastrointestinal tract, the warmth of Emu wool will keep the hypothermic death-chills at bay.
Subtly complementing the Emu top, but making it all work, are the stretch pants. Made of a blend of Lycra for flex, and fiberglass for strength, they hug without the personal-space-constricting ways of your annoying uncle.
The secret is in the waistband which is anchored to your breastbone by a super-strength polymer adhesive. Comfortably positioned halfway between crotch and nape, the waistband, with inflatable option, absolutely ensures no embarrassing pant slippage during actual gorging, while minimizing the chances of regurgitation.
Not a gastric gladiator? No matter. The Emu sweater and stretch pants ensemble looks good and feels even better at every and any BBQ.
Enjoy the dogs, and have a lovely weekend.