My hour with the Spiritual Formation class–a diverse group, ages, backgrounds, professions–was actually a delightful experience. And I know Deb's presentation of the Enneagram was great…many comments.
I talked about Benedictine spirituality and mindfulness, and on spiritual disciplines. I was encouraged by the reception and the questions.
One question–a hard one–was whether I thought my spiritual formation, my Benedictine path, was making me a better person.
How do I measure that? I did find something like an answer. In 1984, when I began volunteering in Edmonton's inner city, I was out to save people…but I didn't really see people. Today, that agenda is gone. I can no longer fathom seeing people as ministry opportunities. I see them, like I see myself, simply and profoundly human, trying to make sense of this world and our place in it.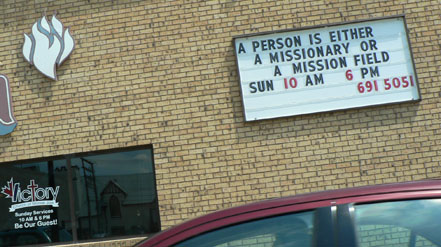 To a certain sectarian view of Christianity I have lost my way. I think I'm finding it.
---
Thank you Briercrest Seminary and everyone in the Formation class. (For anyone interested in references or whatever, I've posted my presentation in the Benedictine Journey page.)
Technorati Tags: Briercrest, Missionary or Mission Field, Benedictine Path, Christianity, Spiritual Formation