A pastor, who is also a friend, is speaking this Sunday in his church on "Jesus and war," and asked me for my thoughts.
First of all I commend him for broaching the subject of war on a Sunday morning. Whatever his conviction about war, and I'm sure it is one of balance, or about our country's involvement in Afghanistan, or the Iraq war, and here I'm gathering it's one of restraint, it's heartening to know there are pastors attempting to make sense of things and to point to some horizon regarding the use of violence.
As a Christian: I believe that the use of violence is wrong, therefore that war is wrong. I also believe that there is no such thing as "just war." And even so-called "just wars" are ways of justifying sacrificial and redemptive violence.
Principally, I believe all of this because I believe that there is absolutely no violence in God.
My starting point, as a Christian, is always the Gospels. I believe that the notion of a divine violence, or divinely sanctioned violence, has no place in the inspiration of the Gospels. And to read any violence into God does "violence" to the Gospel text. Even in the apocalyptic chapters, (Mark 13 etc.) the violence is always traced back and placed at the feet of humans, never on God.
This is unlike the Old testament and unlike parts of Revelation. We might read divine violence, redemptive violence, or sacrificial violence into God, but that is only because we are used to the Old Testament imagery–some of which the New Testament uses–and we are used to a wrathful god that resorts to violence to get things back in line.
Now, if it's true that a Christian's lens must be the Gospels, that is, that the rest of scripture needs to be interpreted from the heart of the Gospels, the centre of the passion narratives, and not the other way around, then how would this inform our belief about God? about violence? about warfare?
Janus, Two-faced god (Roman mythology)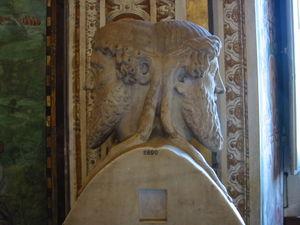 The alternative, to my mind, is a dispensationalist, schizophrenic, or two-faced god.
The only way I can make sense of the 'spirit' of something like the "sermon on the mount," is that this is the heart and nature of God. And the God we think we meet in a couple places in Revelation, as in, the "lamb" that goes to war (unless this is a wholly cosmic battle against the principalities that are at the root of our use of sacrificial violence) is a regressive god. And the god we meet in the Old Testament is a god in process of ultimate self-revelation finally found in Christ. (As Christ says, see me, see the Father.)
It's because of a gospel-lens that I've been brought to embrace pacifism. I'm not, however, a "passivist." There is nothing passive about true Pacifism. But this is another issue.
Now, I'm not saying this is a morally superior position. And I'm open to correction. I'm also aware that in translating my pacifism from paper to practise, in the heat of some personal crisis, some violent event, I would almost certainly fail. But this is not the fault of the gospel, or pacifism and non-violence.
Technorati Tags: Pacifism, Gospels, Peace, Religion, Violence