Stalin was an atheist. Atheism is rooted in scientific naturalism, therefore, science enforces mono-thought, discourages philanthropy, and espouses genocide.
Okay, my statement is hugely disingenuous. Far more than Richard Dawkins' statement: "Religious faith discourages independent thought, it is divisive, and it is dangerous."
Far more disingenuous–but not beyond correspondence. That's simply because of all the exceptions. Ghandi, King, Mother Theresa, et al, were all people of faith. But in bondage, divisive, dangerous? only where the non-violent struggle for peace and freedom is dangerous and divisive.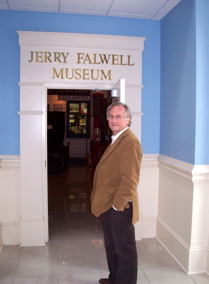 However, where Richard Dawkins will get my ear is at the same place where Mahatma Ghandi has my ear. When Ghandi said, "If it weren't for Christians, I'd be a Christian," he was offering a valid criticism drawn from valid historical reasons. And if you've read growmercy for awhile you'll know how much I agree that there are fundamentalist strains of religion that are exactly as Dawkins says. And it's these strains that need ameliorating.
But Dawkins seems to want the totalizing effect. The riddance of all religion, from which will spring a free and peaceful world.
For me the issue is not God's existence, but a particular interpretation of God. The God that Dawkins describes and thinks most people of faith believe in, that is, the retributive, vengeful and violent God, must be extinguished by a profound atheism.
---
As you may already know, today marks the death of Jerry Falwell. May he rest peacefully.
---
Falwell's God, while loving, was also the wrathful God of the Old Testement. This God of polarity, is in effect the same as the God of Dawkins, and must as well be met with a profound atheism.
Technorati Tags: Richard Dawkins, Stalin, Christianity, Religion, Jerry Falwell