The young man beside me is reading a book called, "Preaching to a Postmodern World," and without opening the book you know the author hasn't grasped the concept of postmodernity. Unless of course if the author is a Dave Barry type. Maybe it's a send-up. Because a postmodern world can't be "preached to." At any rate, society still has a serious modernity hang-over. Evidenced by the modern author's title. Unfortunately the last bastion of the Modern experiment is the church.
---
Brian was leaning on the wall outside Starbucks, blue hoodie covering most of his face. Brian is a First Nations man. He's tall and slim. Not young, not old. His skin shows the scarring of a bad case of acne.
He sleeps outside. But when it's cold he sleeps at the Spady Centre. I say, "But you have to be intoxicated to get in there." I say this because I know Brian doesn't drink and doesn't hang around the guys that do. He says, "I pretend," and does a little wobble for me.
Somehow I love the picture. We always have guys who are pixilated trying to act sober so they can get in the men's shelter. And here's Brian, "fully-facultied," staggering into the Spady.
I've known Brian for a while and have talked to him often. But he's still in the habit of calling me sir. And he says God bless you when I leave. I return the blessing.
I tell Pamela, who I see in Starbucks occasionally, about Brian's graciousness. She tells me a story about working in a liqour store in Yellowknife. How some of the guys who collected empties and panhandled for a day to make enough for a bottle would leave a tip–often leaving everything they had made.
---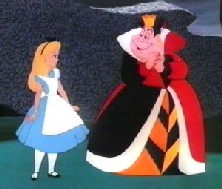 Dan had a friend with him today, Jay. They were both still a bit high. Giddy and seemingly happy to be out panhandling. They wanted money for breakfast…they say. We banter. Then for a moment they get serious. They tell me they have dreams to be youth addiction counsellors. And refer to their state as reason enough. And at that moment, I believe they're serious. I tell them to hang on to that because over the weekend I was reminded of the Alice in Wonderland quote.
"Alice laughed: "There's no use trying," she said; "one can't believe impossible things." "I daresay you haven't had much practice," said the Queen. "When I was younger, I always did it for half an hour a day. Why, sometimes I've believed as many as six impossible things before breakfast."
Technorati Tags: Alice in Wonderland, Postmodernity, Homelessness, Christianity, Poverty