It's been strange and shaky week. I've gone from not sleeping to sleeping in. The weather has been moody to suit. Never had this much trouble coming off a holiday. Wanting to care, but not. Caring too much, wanting not to care. And so it's come to this rumination:
I suppose if there was one item not worthy of either retention or divestment, it would be a rat's ass. It's just one of those things most of us can get through the day without giving or having.
The complicating issue is that in order not to give a rat's ass, one must first be in possession of a rat's ass. Of course most of us deal with this as follows: I could give a rat's ass, but I don't; but if I did, I would, if I had to, go and find a rat, remove ass, and not give it.
Zap your rats humanely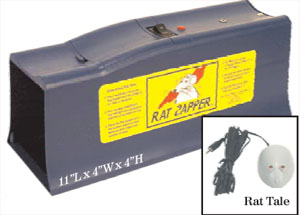 Procuring rats' asses so as to then be in a position of either giving or keeping a rat's ass is a messy and rabies-ridden business. Better to stay clear of the whole Rat's Ass business.
But as I outlined earlier I think we can handle the whole not-giving-rats'-asses in the abstract. With the exception of exterminators, this works for most of us.
So here's my admission: Over the years I've given countless rat's asses. I've found that the spiritual discipline of not giving a rat's ass–or if you prefer, "So do not worry about tomorrow…, for tomorrow will bring worries of its own."–is the hardest to cultivate and the easiest to give up on. I find myself not giving a rat's ass about not giving a rat's ass. And that double negative brings a big weighty positive.
I need help and I admit it. First step.
I remember a church baptismal service, where, during the prerequisite testimonial, one candidate, after a few preliminary remarks he was trying to read off of a sheet of paper, remarks he had obviously been coached in, simply threw up his hands and said, "The reason I'm here is because God has me by the short and curly's!" The pastor blanched and the audience cleared their throats. Besides being a great testimony, it was a wonderful moment of not giving a rat's ass.
Technorati Tags: Rat's ass