Native Rights Activist, professor and author Janice Acoose, left, sits with "Finding Dawn" writer-director, Christine Welsh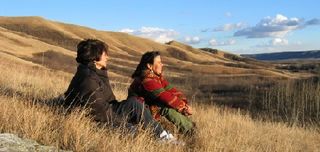 For a survey on the "why" of this film, check out today's Journal article by Elizabeth Withey.
It also contains some thoughts and comments by writer-director Christine Welsh: Such as, that it's important for Edmontonians to see the documentary so that they can see that violence against aboriginal women affects us all.
We are, unfortunately, anesthetized to a simple comment like this. As a "white culture," we are unaware of the deep human and primary connections we have with one another. Connections that cut across all sorts of arbitrary lines–so-called race, to name a more intransigent line. We are ripe to learn from our aboriginal brothers and sisters. If we can only stay still enough, and be captivated and attentive enough to listen. A film like this is a conduit for just such a possibility.
(Stanley Milner Library Theatre, Thursday, March 8, 7:00 PM)
Technorati Tags: National Film Board, Finding Dawn, Christine Welsh, Janice Acoose, Edmonton Journal Elizabeth Withey, Aboriginal Women, International Womens' Day, Beauty, Spirituality, Violence