At 6:30 in the morning it's still dark, although the sky is beginning to tell rumours otherwise. It was colder this morning than I anticipated. So I stopped under a light by a brick building to fish out my warmer toque and gloves. I'm never prepared for much, but when it comes to walking, I'm prepared.
Last night's dusting of snow hid the frozen puddles and I slipped three times on my way to 105 Street Starbucks. I caught myself each time and warned myself I may not be so lucky next time. It worked.
One-o-five Street was closed so I walked to 109th. It was closed as well…until 8 AM. That's because it's Family Day here in Alberta. A gift from former pro football player, former Premier, Don Getty.
I think Don–and no doubt the whole successive lot of our Premier's–is he'd still have a hard time with recognizing the changing face of family. You see in 1989, Don Getty introduced Family Day as an unique Alberta statutory holiday to recognize the family values of the pioneers who built our province. And while back in 1989 we were more inclined than today, to celebrate the values of home and family, as one observer put it, "with gopher shoots, line dancing marathons and anti-gay marriage parades," most will still feel squeamish about today's front page picture, presented as "family."
Lance Anderson, left, and Blair Croft with their five-year-old son, Tyree.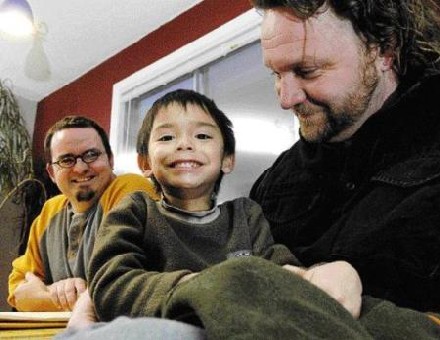 The hurdles this couple faced, all in the name of child-welfare, over adopting this child through provincial channels were legion. Even though Blair Croft worked in the province's child-care sector for over a decade.
Having some experience in dealing with child social services, I know that there are thousands of kids who will spend their childhood in government care–in foster homes and group homes. This was, and in some arenas still is, viewed as preferable to having a gay couple adopt a child from within the "system."
There is still a big need for attitudinal change, but it is encouraging to know there's hope, even here in Alberta "where the family comes first."
Technorati Tags: Gay couples and adoption, Alberta Family Day, Child Welfare, Foster homes, Group homes, Politics, Poverty