Late fall/04 'Sunrise through Windshield'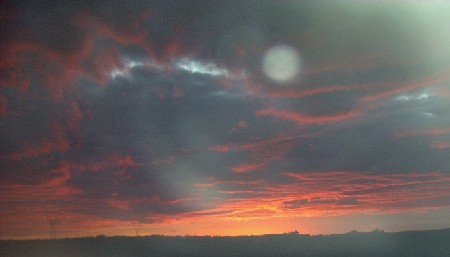 What I miss are sunrises. The January days are short and we are in rooms and sunrises are missed. Outside, the inner-city also conceals many sunrises.
"We were never meant to live without sunrises." This is something a native friend would have told me.
Sunrises are all gift. They make no demand. They simply invite.
And today I miss them. I miss sunrises that call out ancient music from deep in your soul. Sunrises that flame warm on your face. Sunrises that lift salt water to your eyes. Sunrises that are unbearable without worship.
Today's sunrise is swallowed up. But I remember that at every moment in some place in the world a rising sun is breathing spectral colours upon earth and someone somewhere is caught up in worship in our stead.
Technorati Tags: Sunrise, Worship, Spirituality