I've decided–getting a little help from my friends–that it's good to continue to expose this old Folkie to some alternative music. So last night I went to see a band called Seven Devil Fix at Edmonton's Sidetrack.
They're loud, energetic–particularly the frontman–all talented, with an outstanding young guitar player. While they're not message oriented, they do have a message. It's understated and as a result, received.
David Howard from 7DF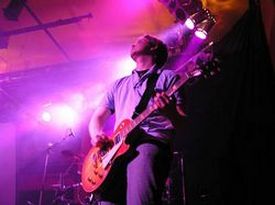 I hear some of you say, how could it not be understated when you can't always understand it? Well, if you get a chance, see them live, the message, in songs like "The Seed" comes through nuanced and textured. Even while the energy is in your face. You can check them out here.
But what of the name Seven Devil Fix? It strikes me that it's on a continuum from subtle to out-in-front, allusion to proclamation, depending on your history.
I like it. Here's a personal take:
Now after he rose early on the first day of the week, he appeared first to Mary Magdalene, from whom he had cast out seven demons.
Mary Magdelene, the wild woman of the gospels, shows up all around the death and resurrection of Jesus. Yes I know it's Christmas. But the Christmas birth–if it holds anything at all–already has within it the seed of resurrection, that is, the reversible garment of death; the gospel.
And Mary M. is what the gospels are about. She's homeless, has a rap sheet, and she's a woman. Three annihilating strikes.
She's been used and thrown out of all the respectable and semi-respectable places. But then she meets someone who treats her as an equal. (How socially bizarre.) And loves her into being. He loves her into completeness or, in new testament language–recalling for a moment the biblical understanding that the number seven connotes something complete–from her he "casts out seven devils."
Mary M's story is both a restoration and a resurrection story. Undergoing this courtship-relationship she's loved completely into complete beauty and released into an understanding that death-is-not.
The rumours she sensed were true all come clear to her in a flood-tide when after turning death on its head, she is the first one Jesus comes to upon returning from the tomb.
It's an emancipation story for all of us occasionally haunted ones. It's a dawn-story for all us night-sitters. And so it's a Christmas story.
Technorati Tags: Seven Devil Fix, Sidetrack Cafe, Mary Magdelene, Christmas, Christianity, Religion