I was reminded of this writing because of some of the reactions to the recent same-sex vote in Canada.
Evangelicals and the 'Gay Thing' was written a year and a half ago, ostensibly for a writing class but primarily because of some things that had been rattling around inside for a time and needed airing.
Escape by Rene Capone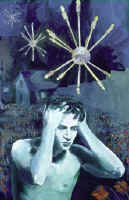 Quite naturally I've had mixed reactions from the people who have read it. My favorite response however was from James Alison who said: "Much enjoyed – and very moved… May your word spread and touch hearts!"
But perhaps equal to this was the fact that a couple of creative and provocative friends placed an edited version of the essay on the front page of a newsletter that was then distributed at an anti-gay political rally. (Apparently the newsletter was also dropped off at a couple of select evangelical churches.)
The point of the essay however was not to agitate, but to trace my personal change of heart and offer an opinion and an impression, and perhaps, to touch a heart.
Above all, this essay is dedicated to my brother-in-law Carl, who died ten years ago this past month.
Technorati Tags: James Alison, Evangelicals and gays, Same-sex vote, Christianity, Politics, Religion