There Are No Small Moments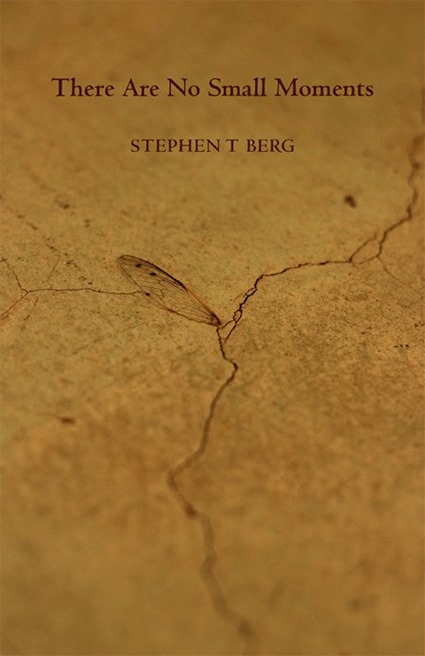 There Are No Small Moments (The Rasp And The Wine, 2014), Stephen T Berg's first (chapbook) book of poetry, hounds the surface of things. Knows hollow places, pain, sorrow, the sense of prevailing absence. Responds to ruptures of delight, beauty and joy. Wonders at the density and porous nature of experience, until, almost by accident, ultimate concerns appear.
---
Reviews and news about There Are No Small Moments:
 Stephen T Berg's poems press with tenderness and clarity on small moments that shape who we are. His exquisite insight, gentle wit, and humility illuminate the ways the world can teach us, if we are open. Our deepest desire is to be each other's joy. This small book, rich with wisdom and elegant language, deepens with each reading. There are no Small Moments is an invitation to live fully and with gratitude, learning our own possibilities at every turn. Give me poems such as "While Thinking of the Murder of Pat Lowther I Write a Poem for Roy" each morning and I will enter each day renewed.
Lorri Neilsen Glenn
Author of Threading Light and Salt Lines
www.lorrineilsenglenn.com
---
I want to live in the world that Stephen T Berg describes so eloquently in There Are No Small Moments. When I read his fine poems, shining with the epiphanies of daily life, I recognize a better world that co-exists with my own, the one I just have to see to inhabit.

Berg's gift is his perception of the divine all around us. He has a rare ability to communicate each confounding mystery with the perfect word or image. Two homeless men feel the warmth of "the spring-splayed sun" as they sit on a bench overlooking the river valley. A prairie boy lies in bed, listening to Muddy Waters on a crackling Chicago radio station, with the "whole of summer coming through that rickety window." Women frustrated with a thousand injustices "gather/ arm in arm/ at the water's edge of hope and sorrow/ open their mouths/ and let the moon shine down their throats."

When Stephen Berg describes the "rising tide of truth," I feel confident that it is on its way. He writes: "Have you heard the news? That mutual love, not resentment, is natural to us?" When I read those words, I believe him. These are poems to read and savour again and again. Hold them as a promise curled up in your hand.
Linda Goyette
Grant MacEwan Author's Award, Province of Alberta
www.lindagoyette.ca
---
 I don't often mark up poetry books, but when There Are No Small Moments arrived in the mail, I sat down with it by the fire and started to read. Then I grabbed a pencil. In the title poem I marked, " There's nothing to be done,/but to lay open and wait." And I understood Stephen's vision for these poems: lay open, wait, gifts will arrive.

In "Why The World Doesn't End", I underlined " at the edge of hope sorrow", a place I often find myself, although I tip toward hope.

When I got to "Pembina River", I damn near marked up the whole poem: all the lovely alliteration and consonance, " Here on the Pembina River/cut-banked, clay-cliffed, coal-seamed" and these hard sounds carry on throughout the poem with its rough music.

"While Thinking of the Murder of Pat Lowther, I write a poem for Roy" is the next poem I marked. What a title, what a first line: "To become the possibility you are, stay still."

There Are No Small Moments is a book of stillness, which takes us to the water's edge. This is a book of fine poems, a book of hope.
Wendy Morton
Author of five books of poetry, founder of Canada's Random Acts of Poetry project, recipient of the 2010 Spirit Bear Award.
---
Stephen T Berg is a mystic of the Aspen woods variety, his thoughts leaping from the page like flames from the fingers of the desert monk.

I found myself falling into the lines of these poems, entranced by their coherence of sound and sense, and at times landing in my own place there on the path through poplars, or wet grass, or on the chair smoking the cigar, sipping tea: a place where everything looked new and changed.

Owen Barfield called it a "felt change of consciousness," the shift you feel when the "spirit of poetry hovers," and then finally alights on our mortal beholding of creation long enough to let us feel the brush of its wing. In There are No Small Moments, you may catch it flitting beneath porch light, outside the window as a storm passes by, or beneath the chassis of a Chrysler, but it is there on every page because something Berg is well acquainted with put it there.
Trevor Herriot
Author of Grass, Sky, Song (HarperCollins, 2009) shortlisted for the Governor General's Award for Non-fiction.
www.trevorherriot.com
---
---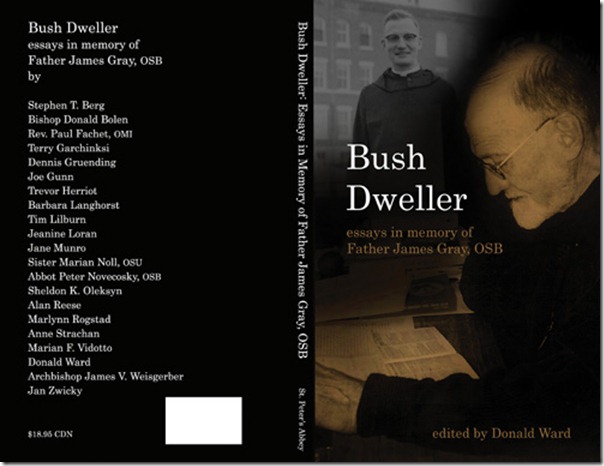 ---
Growing Hope -The story of Edmonton's Hope Mission