It's been too long between posts. And I'm sorry (he said, presuming it may have been missed). Having kept this blog for over 10 years, the rising anxiety from failing it, of not being able to put a few words together has me off balance.
It's an off-balance I've not felt before, a creatively barren out-of-kilter; a flailing that seems to preclude a filling.
It has to do with change. Of course. The simple loss of routine…is not so simple.
And this: having spent 30-plus years in and around a city I've loved, occasionally questioned (sometimes satirized), but loved still, and to move at a time in life when change should equate trying out a new coffee shop, seems, I don't know, large at least.
"Dance on the edge of a cliff," is a little motto Deb and I adopted decades ago. Perhaps our lives seemed too stuck, too asphyxiatingly secure, or perhaps we simply loved the image, either way, it's probably the reason we've moved at least every seven years.
Well, a move to Victoria, BC., hardly meets the (romantic) amplitude of that line, yet…yet, when it comes to the emotional oscillation of grief and loss/hope and adventure, it feels, somehow, appropriate.
I will make an unoriginal suggestion here: keep a collection of guiding poems, or if poetry is not for you (and I have no idea how that could be) keep a collection of quotes, axioms, verses etc., that you can turn to when you find yourself in any kind of wilderness, whether staggeringly beautiful or chillingly pallid, for both demand specific navigation.
Here's part of one of those guiding poems. "The Layers," was written by Stanley Kunitz—he was around eighty when he wrote it (he continued to write until his death at 100). I think, however, it's relevant wherever you find yourself.
In a rising wind
…I turn, I turn,
exulting somewhat,
with my will intact to go
wherever I need to go,
and every stone on the road
precious to me.
In my darkest night,
when the moon was covered
and I roamed through wreckage,
a nimbus-clouded voice
directed me:
"Live in the layers,
not on the litter."
Though I lack the art
to decipher it,
no doubt the next chapter
in my book of transformations
is already written,
I am not done with my changes.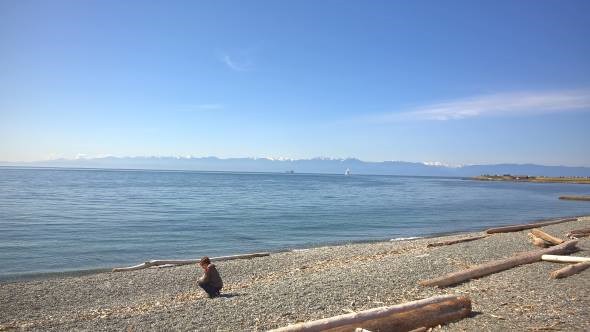 (Deb off Victoria's Clover Point, among her stones and shells)
Finally (with some help from Kunitz), I'll leave you with these (forced?) stanzas…
Change
Change will call, and you will go, carrying with you your "how?" and "why now?"
yet knowing that if you don't go, other questions will forever fester.
And so you go in hope, that your heart will find its reconciliation
in the forest of losses, its consolation in an untested promise.
You go knowing that like every season,
every change has its sting and its prospect.
You go in the deep stirrings of farewell
to people who will forever be close.
You go wondering…who opens paths? calls forth these alignments?
almost like the shock of poetry, that came mid-late in life.
You go in faith that in the mysterious layers of place and time
you're not done your flourishing.
You go with the grace of friends, and friends to be
—all of us flawed pearls, unfinished poems.
You go, in the renewed knowledge,
that living is holy.
---