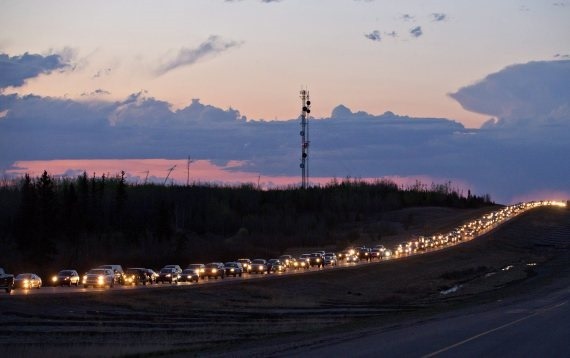 Having never lost everything in a fire,
I'd like to think I'd take it philosophically,
apply the long view—possessions…transitory.
I'd like to think a house is a house,
the bedroom (with my son's painting over the nightstand),
simply a comfortable place to sleep.
My little office, rows of dusty books (some signed), replaceable;
journals and photo albums, yes, harder.
But I escaped unscathed…right?
The living room (funny how couch cushions
shape to our bodies), and the kitchen,
(nicks and cracks in the pine table),
what are these rooms? …merely places we gathered,
as family (laughing, retelling stories of the nicks and cracks).
Clearly, I'd like to think my old Ford Ranger (and all
those miles), unworthy of recollection,
so too, my forgotten guitar,
(which just now reminds me of the old band).
Oh, and that little project in the garage for Mother's Day…
I'd even like to think a neighbourhood can be exchanged,
people pick up and move after all.
I'd like to think this because in some impersonal,
disembodied world, it's true.
Except for this chest-weight calling out the lie;
except for the wrinkle that none of us live in the ephemeral,
but in the trusses and rafters of everyday,
in the retaining wall of life-moments—
(growth charts on door frames), hallways
of birthdays, anniversaries, graduations—sorrows and joys,
imprinted in drywall, hardwood, and stucco ceiling,
set on a foundation of relationships.
For every space we come to occupy,
we bring some yearning and permanent part of ourselves,
begin to build with hope and sweat,
until we know, intimate and unconscious,
that a house is not a house, but a haven of memories,
a frame, a form—meaning home.
To lose it, forced to flee from it,
seems a kind of death, unique to itself.
Not enough to know that time heals,
for time may not heal all…
Time now, for grieving.
Time now for empathy—joined hearts, joined hands.
---
Here's the latest list of resources for evacuees, and ways we can help.
(photo credit huffingtonpost.ca)
---