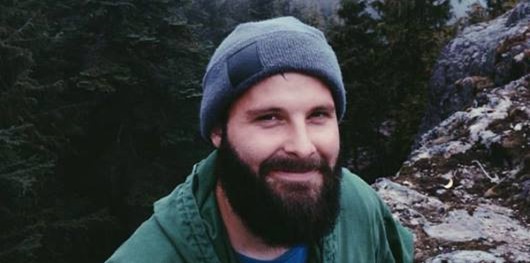 Identification papers
    for Benjamin Hertwig
The park is weeping yellow leaves—a lace
of loose and wandering flames.
An old man by the dry pond has taken root
on a bench beneath a tree. In the canopy
a squirrel is causing clusters of emergencies—leaves
crash into leaves.
A black spider glides an orange leaf down and lands on his hand.
A parking attendant with tight cornrow braids trolls through—her boots
are black and dusty, the soles are thick and heavy.
The distant claxon of car alarm calls up a brigade of ghosts.
The tree grows monstrous before his eyes
and pumps him for information:
"Did it escape through a sprig or a root?"
"Did it fly out of these meristematic shoots?"
The old man sits straight, reaches
for his identification papers—stays silent.
Waits and watches where the poem might alight.
---
The occasion for the above, all of which happened by the way, was reading Benjamin Hertwig's chapbook, The Slow Wars, in Paul Kain Park on a sunny October afternoon.
I have never been to war, I have never been close to what is called combat. But I believe that those who have been to war, those who have experienced any kind of proximity to combat, will have been somehow wounded.
The Slow War poems—that span Benjamin's Hertwig's tour of duty in Afghanistan—are themselves wounds laid open. The work as a whole is a highly personal yet dispassionate puzzling and aching through the interior darkness borne of that experience.
Theodore Roethke said, "Art is the means we have of undoing the damage of haste." War, most often, is the result of haste—the inability to be still, and see the grace of alternatives.
Through keen and sensitive observation, Benjamin's poems serve to undo damage. Perhaps chiefly for himself, but importantly, for those who still look for signals and signs of humans becoming human. In other words, this is a work of art.
---
The Slow Wars can be purchased at Audrey's Books or through Rubicon Press.
---