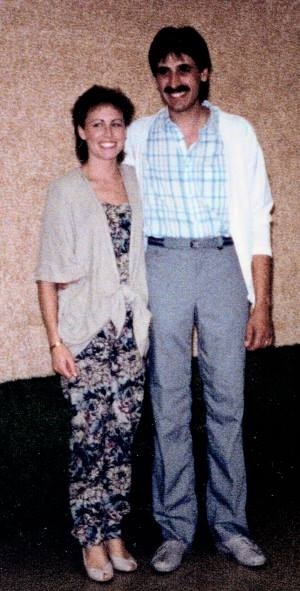 Isolating habits, a wandering mind, and ill-conceived ideas for gifts, are just a few things I've learned to own after 29 years of marriage. On this score, I was a much finer man before marrying Deb (just stunningly unaware).
Deb has been the catalyst for most of the things I wish I could say I learned on my own—which tells you more about me than I'd wish. Of course, concerning self-awareness, I think Deb would admit to some reciprocal enlightenment. (And on this front, both of us have had, and continue to have, our horizons broadened by each of our kids.)
A few years ago I overheard Deb responding to an inquiry about our relationship, from a young woman who was had just gotten married. Deb said, "…we have learned the art of fighting well." I think this is true. And yet, after 29 years our biggest arguments are not so different from our early arguments, except that on scale, I'm happy to say, they're foothills compared to those early Rocky Mountains. Which is a testament to how much, and how little, we've changed.
There were days when neither one of us wished to be married. We've admitted this to each other, and it was somehow important we did. At least as important is the timing of such acknowledgements.
But then, honesty—which is also about timing and context—is indeed everything it's cracked up to be. Facing the truth of our disappointments and loss of expectations was a kind of salvation—it's weeding the garden—and more, for it occasioned the embrace of…let's just say…great bodily joy.
We jump in it for ourselves. Don't we? And we stay, why? out of curiosity? out of obligation? out of fear? out of wonder? out of excitement? out of sex? out of all of these? Yes, and out of love.
There is nothing like it—love, that is. Passion, desire, excitement, those bewildering highs, those surges that elicit an exquisite kind of suffering, all these can look like love, but none are. And yet love needs them. They are, put pedantically, ambassadors, better, messengers, better yet, light-footed warriors that storm our inner castle, with its mystery, its grandeur.
Oh I remember those high-minded things we said and sang at the ceremony, grand pledges of selflessness and servant-hood, all so theoretical. So lovely (and lucky) to look back and recognize how flesh and bone and soul grew—in spite of ourselves—out all that wisp and paper.
This is not to say things can't break down over time, or unravel shockingly quick—which is an acknowledgement that seems on the surface negative, but is, I think, an awareness that's healthy, and rightly seen, is a recognition that has first of all to do with our own flawed selves. Call it positive humility.
Back then I thought I had a handle on love. Could wend and wield it, own the thing that was released in me. Today I sit and marvel how the grand themes of life—the grandest being love—turn on the merest of acts. How small faithful moments of attention without judgement is water and sun enough to produce a great greening of love.
After all this time I think I can say that marriage, or any relationship smelted in love, is capable of showing the sainthood, even divinity, that lives in each of us. And just maybe, that's both the gift and the point. And that's worth etching into some shell you found on the beach, or chiseling into that stone you found by the river, the one you both delight to walk along—still, after 29 years.