People retire all the time—today is my time.
I've been asked what it feels like:
I say, it's like a blind curve on a dirt road,
and you're in the red 1965 Pontiac Parisienne,
and you just got your licence
so obviously you want to test
the 283 cubic-inch engine,
with its double-barrel carburetor,
because you only have the car for the weekend.
Or, perhaps, I'll confide, it's like finding
you're finally free to talk about those
Epicurean quirks you hold dear,
that have no location within the reign of reason,
yet seem sensible within themselves,
—things like, knowing you write better
when wearing burgundy underwear,
and accepting that retirement
is simply the state of affairs
where it gets harder and harder
to find burgundy underwear.
Or it's like walking in a wind
on the crest of a prairie hill,
where the swirling leaf,
the snapping flags
of torn birch bark,
the bowed grass,
have pooled
their angular
momentum,
dissolving the lines,
melting all into motion
except here and there where
your eye comes to rest, arrests,
and frames again the forms of leaf,
bark, grass, for one more resurrection.
Or, like today, it's revisiting a call,
returning to that park full of memory,
full of inner-city beauty and squalor,
to recline at the root of things,
to drill down through the core of yourself,
to the dark night of your identity,
to the grass-mat packed-dirt
lowliness of each of us,
each within our own glorious
brand of selfishness,
holding up our one tremulous light,
high enough to see, elm, gull, elder,
bench, beggar, bottle, you, me, us,
brilliant with being,
magnificent with offering—
and you run through the streets
carrying this news to the end.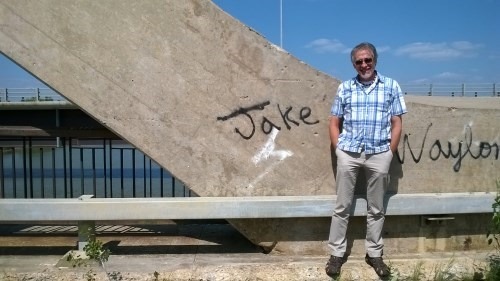 Today, after six years as a volunteer and 25 years as an employee, I've hung up the last of my several Hope Mission hats. I hope, to some degree, that Hope Mission has benefited from my work, as much as the work, the basic compassionate intent, has benefited me. It has been a vocation and a calling. But any calling, that meets the epithet, is a living thing, and as such, is also a personal evolution, even, an inner revolution. With this in mind, for the enlightening, the learning and for the opportunity of giving, I'm ever grateful.