Remembrance Day always brings conflicting thoughts. It's not an easy day.
Not easy because I will not be ungrateful for the sacrifices made in war, but I'm also convinced that wars do not make for peace, that peace secured by war is temporary and ultimately illusory. That violence "over there" and "back then" still prescribes our collective thoughts and actions.
Not easy because I'm a patriotic Canadian, but I believe that planning for war, building bigger and better weapons, does not achieve the security and freedom we crave, but instead opposes freedom. Militarization spawns government secrecy and the invasion and curtailment of personal privacy—which we pay for. The only winner here is the arms industry.
Not easy because I respect Remembrance Day and its place in our culture, but I know there was no "great war." There will never be a "war that ends all wars," unless it's the war that ends planetary existence…calling to mind that blackest of ironies: peace through mutually assured destruction.
Not easy because I'm proud to be Canadian but my government's high moral condemnation of other nation-states who rush to gain the technology for superior weapons, while rushing to gain the same, at home and through strategic alignments, requires a particular kind of blindness.
Not easy because while I honour and celebrate our (qualified) peace, I see that the things that make for peace still evade us. We have had in the past century at least two authentic examples of peace through nonviolence. The success that ML King and Gandhi had should have spurred some desire to find alternatives to peace through violence. And yet, has any government ever considered to seek peace through peaceful means? Has there ever been a discussion about what a policy of non-retaliation would look like? And as for diplomacy, when has it not been backed by the threat of some form of violence?
Not easy because I'm truly thankful that I was not called upon to fight, or to ration, or to move, or to lose much of anything through war, but I hope I'm also careful that in remembering, after calling to mind "our" soldiers, to call to mind all victims of war. For it seems to me, if we only remember "our dead," the things that make for peace stay hidden, and war is glorified. It seems, as I've witnessed in some past Remembrance Day ceremonies, a very short distance from remembering to glorification.
Not easy because it's not easy to receive and be grateful for this provisional peace without giving into the lie of redemptive violence. Not easy to always recall that, as King said,
The ultimate weakness of violence is that it is a descending spiral, begetting the very thing it seeks to destroy.
Not easy because outside of a few aberrations like Jesus, St. Francis, Gandhi, Bacha Khan, King, Mandella, it seems we'll never be able to give up on the seemingly pragmatic use of violence. Even though something tells us our refusal to renounce it will end in our own demise.
Not easy because while we remember, we refuse to renounce: For example, we rightfully abhor domestic violence and child abuse of any kind. Yet, do we stay silent at our nation's participation in drones strikes that inevitably kill children? Does this show how far we've been formed by a culture of war and violence—the nature of which we keep wilfully hidden from ourselves?
Not easy because as Thomas Merton says,
Peace is not something you must hope for in the future. Rather, it is a deepening of the present, and unless you look for it in the present you will never find it.
And so before going on about anything, I must again examine my own heart—my own resentments and passive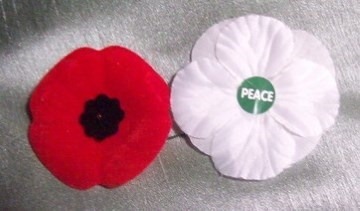 aggressive attitudes. For wisdom understands that violence begins in our own beating breasts. Personal peace starts peace.
Not easy because intentionally remembering war, so that we can in some way dispel it—so that violence can be named and thwarted—can be, and often is, an act of good faith. To hope that in the naming, in the remembering, something like grace and peace may appear, is a spiritual act. It's "foolish" and courageous, but as I see it, this is really what "Lest we forget" is all about.
But it's not easy because,
Our age not only does not have a very sharp eye for the almost imperceptible intrusions of grace, it no longer has much feeling for the nature of the violences which precede and follow them (Flannery O'Connor).
It's possible, as in O'Connor's fiction, that violence can act as the cudgel to awaken the sleeping (that's us) to the reality of something beyond, like an intrusion of grace.
However, it's not easy because at the same time it must be remembered that war, or any form of violence, is never the cause of grace (or peace). All it can do, in view of its great distortions of social solidarity, (I'm thinking of everything from office cliques to neo-nationalism) is reflect back to us our own propensity toward envy, rivalry and redemptive violence. And in this revealing, allow us the grace of seeing ourselves as we are—and so call us to where we should truly be. If this happens, it's an occasion of mercy.
Not easy, but this uncovering may remind us, even as we take this day to remember, of an ancient example.
Would that even today you knew the things that make for peace… -Jesus, according to Luke.
---