A couple days ago I spent two hours watching Mad Dogs and Englishman. The rockumentary, that is. I've watched it before. I even have the VHS…remember those? The album, by the same name, came out in 1970. A double album full of notes and pictures that lit our visions. It exchanged hands frequently, and travelled with us. By us, I mean a motley broken-off camp, thrown together by virtue of being from the same hamlet…population 400.
In 1972, when the Mad Dogs and Englishman film came to town, we piled into the Ambassador, and drove to Yorkton's (Saskatchewan) Tower Theatre as though we were on the original pilgrimage to Woodstock.
"Beat your crazy head against the sky," is a line in a Lovin' Spoonful song, called, "Darlin' be Home Soon." The song is one of a couple dozen covers that Joe Cocker does during the tour. And beating his crazy head against the sky is what Cocker does like nobody else. Nobody does hypnotic-spastic like Cocker. Nobody rings out as much searing emotion from a single note as Joe Cocker. He's like some Apostolic faith healer in the throes of catalepsy.
The movie is a great big awkward mess of concert and backstage footage, touring shots, fan/groupie interviews, band member banter, and it's brilliant. The sound stands up, the visuals, wonderfully curious, the editing beautifully dated…all those three panel takes. It's an adrenaline-burning film that does not bore—from the opening "prayer circle," called by front-man and overall framer, Leon Russell, building to the penultimate, "A Little Help From My Friends," written by the Beatles of course, but owned by Cocker. And that's another thing with Cocker. To my ear, most songs are loyal. Their depth and radiance really only surfacing when played by their maker. But Cocker changes that, not with all, but with almost all of his covers.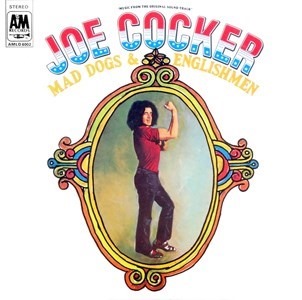 As for the tour and resulting album: it's been called one of the greatest of rock-and-roll flukes. The band was put together by Leon Russell in one week to meet a contractual obligation by Cocker, who was pretty much burned out from having just finished a tour. Russell was hero, pulling together a horn section, two or three drummers, keyboard players, guitar players and a choir. Thirty-six members in all—give or take. But for the beautifully pure-voiced (I could go on) Rita Coolidge, Cocker and Russell himself, most of the band were unknowns. They hit the road, with everything that that implies. Something like 52 cities in eight weeks.
Between the narcoleptic Leon Russell and the spasmodic Space Captain there was enough creative tension and balance to pull it off (although balance is not a word that readily springs to mind in reference to Mad Dogs). The tour ended at New York's Fillmore East. As legend has it, Bob Dylan was among the spellbound crowd and no one, but no one, wanted to leave.
Can a concert capture an era? If so, this one nails the crazed monumental failure of the 60's and 70's, with its charged hopes of peace, love and harmony. (Yes, my disappointed hippy is showing.) But here's the thing: as flawed and self-serving, as artificially tinged and narcotically fringed the 60's and 70's were, flowers still bloomed. It was before our universal cynicism, when ideals and those hopes…O peace, O love, O harmony, seemed within the grand reach.
Consider here, Cocker's interpretation of "A Little Help From My Friends," and his cover of "Space Captain."  In the overdriven vocals of Cocker, it's almost possible to believe again. I think that's the root reason I keep watching. "Until we die, until we die, we're learning to live together…" Anyway, another '60's is just a generation away!
With A Little Help From My Friends
Space Captain
And here, (at least for musicologists) is a link to the entire concert.