Here, comfortable in my condo reading "I Have a Dream," I feel good. I can celebrate Martin Luther King Day as though it's a piece of packaged history—complete, ribbon and bow. And I can move on, ennobled, righteously confident that the day against racism and its tangential injustices has been won. (The incidental fact of my Canadian-ness with its supposed inherent innocence regarding racism, providing me even more distance, more cushion.)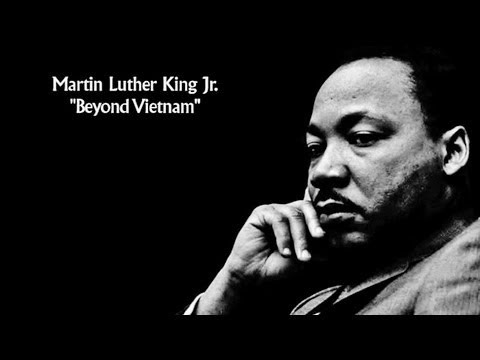 Delivered in 1963 at the Lincoln Memorial, "I Have a Dream" has become our singular remembrance of MLK. It was, of course, a watershed speech, magnificent, courageous, an axis mundi moment in the civil rights movement. But as inspiring and momentous as that speech was, King was still evolving, still in pursuit of exposing something more encompassing. Something that lies at the root of human division and structures of power.
A year to the day before King was assassinated, he delivered a speech at the Riverside Church in New York, that the Pentagon and the entire military establishment of the United States are still trying to squelch through distraction, through re-envisioning history and through the distortion of his legacy.
Last year at this time, for example, the United States Air Force's Global Strike Command posted an online essay saying that Dr. King would cheer on soldiers "ensuring the most powerful weapons in the U.S. arsenal remain the credible bedrock of our national defense. Maintaining our commitment to our Global Strike team is a fitting tribute to Dr. King."
As David Sirota further points outs,
The U.S. Marines commemorated Martin Luther King Day by tweeting out a famous King line—"a man who won't die for something is not fit to live"—in a not-so-subtle attempt to depict him as a war supporter. That was a follow-up to a 2011 article posted on the Defense Department's website with the headline: "King Might Understand Today's Wars, Pentagon Lawyer Says.
Princeton professor Cornel West labeled all this the "Santa Clausification" of Dr. King. Well, we might want to ask why the obfuscation. Why for instance do we see copious replays of "I Have a Dream," while "Beyond Vietnam" is suppressed?
Should you read the Riverside speech, the answer is obvious. Given the character of MLK, living at the time he did, his evolution from civil rights leader to international peace activist was inevitable.
According to Gar Alperovitz, a colleague of King's, it was a Ramparts magazine report in early 1967 with photos of Vietnamese children who had been the victims of U.S. napalm bombing that pushed King over the edge about the war. While King had been critical of the war as early as 1965, it was this that compelled him to break the silence.
When MLK brought his nation's war mongering into the field of his moral vision he found himself alienated both from some of the civil rights leaders who had always supported him, as well as, quite naturally, the Lyndon Johnson administration. The ongoing attacks of the Right only intensified. And the established media were complicit. Concerning the Riverside speech, the New York Times condemned it as simplistic and flawed. Time magazine called it "demagogic slander that sounded like a script for Radio Hanoi," and the Washington Post declared that King had "diminished his usefulness to his cause, his country, his people." I'm reminded of the reaction to Pope Francis' Evangelii Gaudiume.
In "Beyond Vietnam" King calls for a revolution of values:
A true revolution of values will soon look uneasily on the glaring contrast of poverty and wealth. With righteous indignation, it will look across the seas and see individual capitalists of the West investing huge sums of money in Asia, Africa and South America, only to take the profits out with no concern for the social betterment of the countries, and say: "This is not just."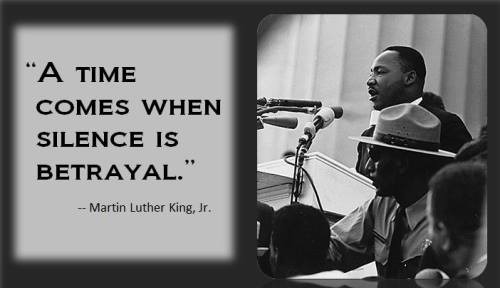 As King watched black and white soldiers "in brutal solidarity burning the huts of a poor Vietnamese village," realizing "they would never live on the same block in Detroit," he could not but cry out in the face of such cruel manipulation of the poor.
They asked if our own nation wasn't using massive doses of violence to solve its problems, to bring about the changes it wanted. Their questions hit home, and I knew that I could never again raise my voice against the violence of the oppressed in the ghettos without having first spoken clearly to the greatest purveyor of violence in the world today—my own government.
King clearly understood the larger implications, he saw into the heart of a system, into the seductive powers and principalities of colonialism, nationalism, North American jingoism:
There is something seductively tempting about stopping there and sending us all off on what in some circles has become a popular crusade against the war in Vietnam. I say we must enter the struggle, but I wish to go on now to say something even more disturbing. The war in Vietnam is but a symptom of a far deeper malady within the American spirit.
Reading the Riverside speech, "Beyond Vietnam," it's impossible to not notice how close the connections are to our own time. And our Canadian-ness does not give us immunity.
A nation that continues year after year to spend more money on military defence than on programs of social uplift is approaching spiritual death.
It's also impossible not to see King's own struggle, his calling to speak against his own government—his "vocation of agony." And it's impossible not to be moved. But now, will I allow this being-moved to affect my own comfort?
Martin Luther King Jr. concluded by hanging his hope on peaceful revolution and love:
Our only hope today lies in our ability to recapture the revolutionary spirit and go out into a sometimes hostile world declaring eternal hostility to poverty, racism, and militarism.
Love is somehow the key that unlocks the door which leads to ultimate reality. This Hindu-Moslem-Christian-Jewish-Buddhist belief about ultimate reality is beautifully summed up in the first epistle of Saint John: Let us love one another; for love is God and everyone that loveth is born of God and knoweth God…If we love one another God dwelleth in us, and his love is perfected in us.
---