"Behold this and always love it! It is very sacred and you must treat it as such…"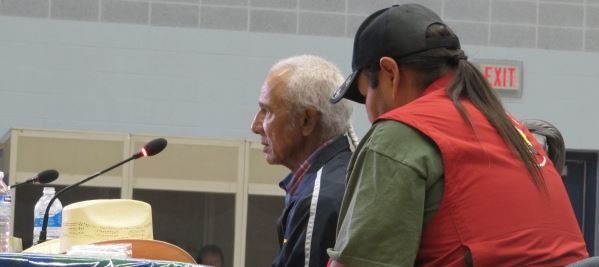 While it's true that we are all one people, that we are brothers and sisters in the human family, I believe it would be false, in our current relationship with First Nations peoples, to say this aloud.
There may be a day, a blessed day, when this can be spoken. But first must come the long hard work of introspection, truth, justice, and reconciliation.
As a non-aboriginal, I must reclaim my own dignity, by naming differences, recognizing the inequalities, accepting my inability to fully understand, or to relate, and from this marginal space, begin to listen—straining to understand.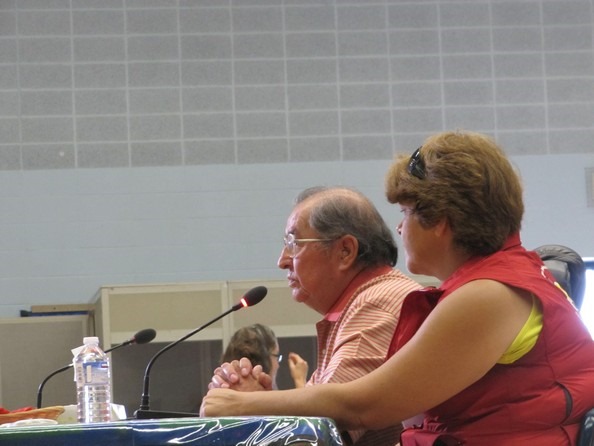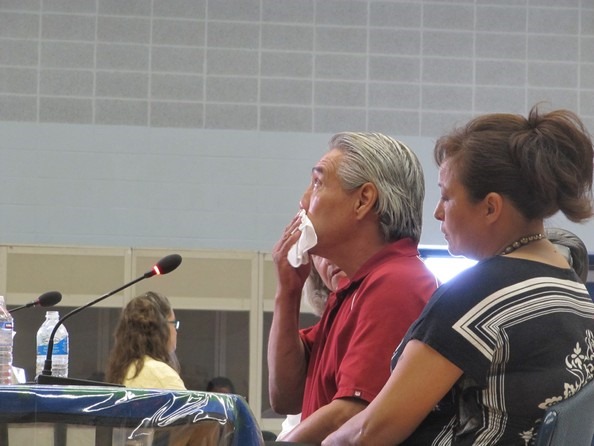 There is a perception, one I had held, that the Canadian government bestowed upon our citizenry, the Truth and Reconciliation hearings. But that isn't true. The hearings are a result of a court settlement. The residential school survivors, of which there are still 80,000 (many did not make it back), fought very hard for this initiative. Just as they fought for an apology—which would not have come outside of continual pressure by aboriginals.
You might wonder about an apology given under pressure. Just as you might wonder why it took so long. Nevertheless, the 2008 apology was a moment of self-recognition, an opening; and the resulting Truth and Reconciliation Commission process matters.
Of course reconciliation—between non-aboriginal and aboriginal peoples, between parents and children, aunts and uncles—is an ongoing and collective process. But how do we keep it alive? How do we draw near the truth of oneness? I suppose, at least, by remembering and listening.
While attending the hearings, (Thursday July 25, Hobbema, Alberta), I saw that this was not—as I had feared—a process of retraumatization; instead, I was moved to see how this was one way, a critical way, voices of aboriginals are given back.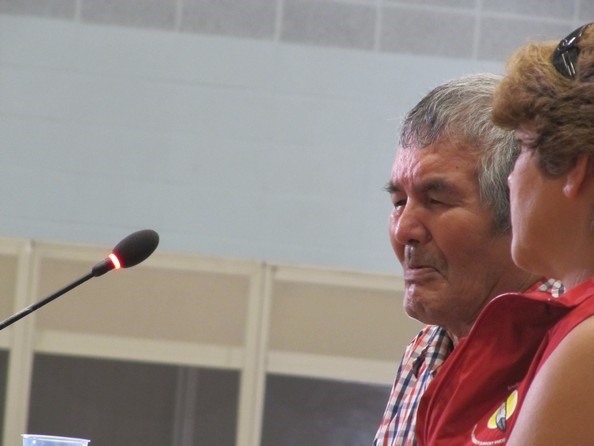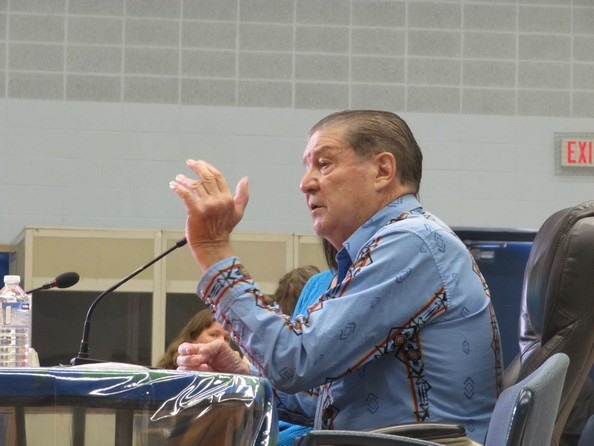 On this land, where we gathered, now Hobbema's Ermineskin Jr/Sr High School, was once the largest of Canada's residential schools.
Prayers were sung, the space was made sacred. And the survivors came forward to tell their stories:
Raymond
I wear a hearing aid…see?
I was not born deaf.
The fluid ran out of my ears.
I was slapped very hard.
I entered into bitterness.
Intense hatred.
How close I came to destroying my own life.
I have gone for surgery.
I still can't hear.
But my ears are drying up.
But then, I am old.
When everything dries up anyway.
Wayne
I was born in 1957, taken away at seven months.
Then when I went to the "hostel," that's what we called it,
I started running. I ran away many times.
I was sexually abused until I was 16.
I was always trying to be something else,
but not feeling worth it…this lead to jail, which was
a safe place: I do my time, do my chores, I get out.
But home wasn't home anymore, I ran, and I kept running.
Many years later I learn that this man abused 29 other kids.
I am angry at my biological mother, angry at everyone.
My dreams were denied.
But today I have one thing, the support of my beautiful wife.
Roy
I made up my mind to kill each person.
But all that changed, 1987. I was hunting:
I had an experience like I was lifted off the ground, and I stood.
At that moment I forgave.
The hatred that I had in me was not an issue.
What a blessing to experience forgiveness.
For me, to know the true meaning of love, I had to truly forgive with conviction.
Ray
I had a friend, Kenny, we'd go just back here
in the bush, and he used to teach us how to sing
the cultural way. We'd sing away in the bush,
the cultural way, imagine, children singing in the bush
and then there's a nun behind us, calling other
nuns, "The children are singing in the bush!"
They lifted me by my ears and took me back.
I got the strap…
a big piece of combine belt, for learning the cultural way.
The sexual part is hard to talk about:
I used to fear God. The Priest would tell me,
you speak a word of this, of what you done,
God's gonna punish you, if you say anything.
But it wasn't me that did it, it was him.
I still kind of fear God, I never forgot
what that priest said, I try to forget…but I can't forget,
Went through sweats, still can't forget.
I never saw my parents growing up.
What happened in school, I took that with me,
when my children did bad, I took a belt.
The government, the churches, they took away the child
these concentration camps, I call them,
you were put there and that's where you stayed,
I used to hear the word quite a bit… "savages,"
I used to think the government was the savage,
That's were all the evil came from.
One thing was good, I learned how to play a violin.
Raymond
I was born in 1951, in Wetaskiwin.
They said I had a bed wetting problem.
They cut me off from drinking water.
I used to find ways to drink water.
I would sneak into the toilet and drink
from the toilet bowl, just to quench my thirst.
I hated people that were white, straight.
We used to pray for hours.
The Roman Catholic God, I don't know.
When I pray, I pray to the Creator.
Percy
I am 81 years old.
I was adopted, a native adoption, just the promise to care for the child.
Mom and dad spoke Cree, my dad was so kind, he didn't know.
When I talked Cree the nun yelled at me.
She was talking in English, I didn't understand.
I said "what?" in Cree…
"Shut up! Don't you dare speak that heathen language!"
What she said was explained to me later, by another boy.
Once I wet my pants in school…I was afraid to ask to go to the washroom.
"Oh you filthy boy, come here."
She broke the ruler over my hand.
My hand swelled up to twice the size…no medical attention.
Now my hand is like this.
Every time I wash my face I remember.
Maybe I understand the nuns and priests, it was their job.
As for Canada, I don't know, Harper's apology seems like an insult now.
Amos
Greetings in the name of the Lord Jesus Christ.
I am 76 years old.
I was six when they took me.
They grabbed me from behind,
I went underneath ice water,
I started to get sick,
Got the double pneumonia,
Then they hit me with a 2×4,
I started to have the epilepsy,
I was strapped,
They always grabbed me,
Tripped me,
Ran my head into cement,
I lost a lung,
They threw pepper in my eyes,
I can't see very well.
Mary
I attended this school for ten years.
I cannot use the word forgiveness.
I have come to acceptance.
I will use that word.
I can go ahead from there.
We all need to heal.
And we need to celebrate,
put our heads up,
sing and dance,
for the children,
they will learn to be proud
of who they are.
"With all beings and all things we shall be as relatives." Sioux Indian