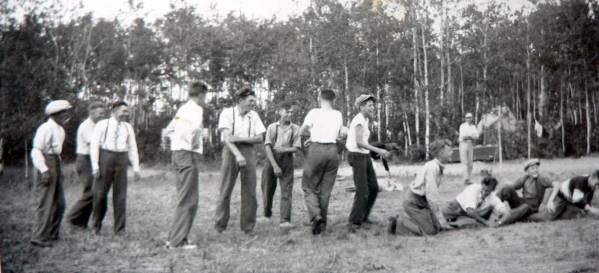 My father, fifth from the left, suspenders, church-picnic white shirt, head full of black wavy hair, missing the little finger of his right hand (farm incident), laughing life-deep, a large presence in this picture.
It's a picture that never fails to bring a smile. A tug-of-war—the way all wars should be fought: on Sunday, in a park by a lake, best out of three; and perhaps on the third round, a conspiracy, such as is obvious here…where at the height of tugging-tension, the rope is released by one side and the entire line opposite flies back from the force of their own straining—the sudden bursts of laughter shared by all.
And it's also a picture that makes me sad, makes me long for innocence, long for the singularity of sun-filled day, cool air moving in off the water, the waiting pot-luck and rhubarb pie with whipped cream.
And it makes me long for my father, gone now 20 years this fall. The memories of my father are not all this sanguine. The deep lines in his face grew deeper from sorrows he found hard to speak of. Poverty, so near, so often; his own father incapacitated and broken by the loss of two farms. One stolen by the Red Army, the other swindled by a trusted neighbour in a new country in which he placed all hope. And my father left to shore up the nothing that was left. Many lines came by dirt-scrabble hard work. And some lines were no doubt etched in by his own children.
But these harder memories have been replaced by his presence, still very real in my life. I see him at the dinner table, surrounded by his family, children, grandchildren, a brood of broad smiles. And my father's robin's-egg blue eyes and terminally thick black hair; and now a joke, a story, an incident in church, and then his slow smile, and then his laugh. For of all the lines on the map of his face, the deepest still, were those of laugher and joy.
Years ago I wrote this poem for him:
He came here with love
Carved a patch of ground
Out of scrub poplar and willows
Dug a dugout
Drove posts in stony soil
Played his guitar at dusk
At twilight wandered far venues
Wondered
Met hazel eyes
Loved her
Wrestled together a house
He came here with love
Drew out children from that patch of ground
Gave, prayed
Laughed, yodelled, laughed
Mulled, lingered
Cried, stood resolute, felt pain
Moved, came back to lands nape
Made deep furrows in its lap
Planted his flesh
Left a grove of love