The backstory here, one I'm only beginning to appreciate, is that the Creative Nonfiction Collective (CNFC) is vitally responsible for the respect that creative nonfiction is now beginning to enjoy in Canada. And of the small circle who pioneered that path, Myrna Kostash stands out as provost.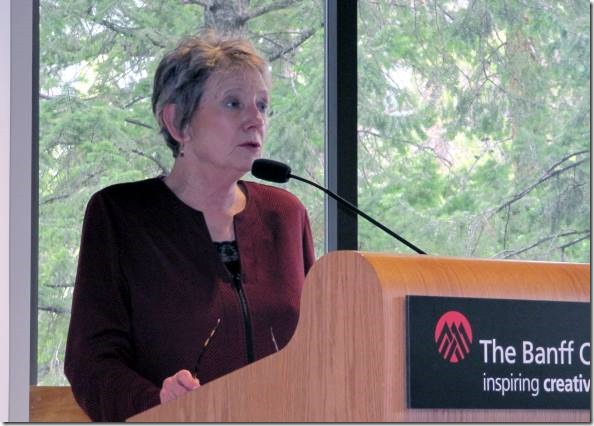 It was this—surrounding talk of CNFC going into their tenth year of goodly engagement—that hit a chord for me at CNFC's annual conference. A first-timer, I hadn't considered how much doing it takes to undo the Dangerfield syndrome. Hadn't considered the expended energy that's gone on before to get creative nonfiction writers a pew closer to the pulpit; up there as an equally recognised form of literature, "amongst awards juries, news media, publishers, booksellers and the reading public."
Clearly, this genre's time has arrived. Sitting in (and taking part) in last Friday's cabaret, feeling flush from listening to the formidable pool of talent, from Halifax to Victoria, was pure church. Besides this, remembering that we were here due to an idea spawned by a creative cadre with a prodigal daughter at the prow had me at the crest of a religious experience.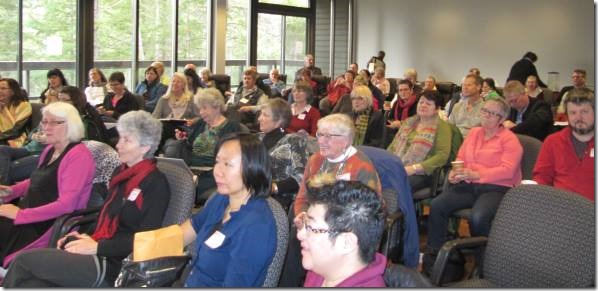 Hard to follow the cabaret, but the next day's sessions, offered up by Kate Braid, Tyler Trafford, Lynne Bowen, Danielle Metcalfe-Chenail, Marcello Di Cintio and Glenn Dixon, from found stories to stories of perspiring through 10 years of research, shows the kaleidoscopic range of the "beloved genre." And didn't you love looking through a kaleidoscope when you were a kid? This was better.
Then came the keynote—New Instrument, Another Music: Moving from Fiction and Poetry to CNF: Karen Connelly is hard to pin. You don't listen to her so much as undergo her. If my father was still around he would have summed her up as a livewire. I'm good with this if you take off the busy ascriptions this can conjure and just go with the suggested live-energy, wired-in humour, a certain magnetism and intense conviction.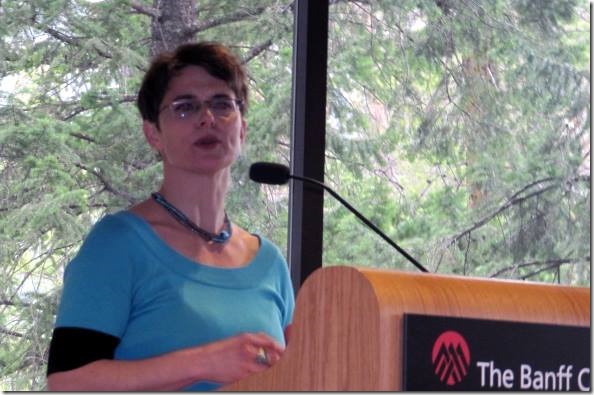 Perhaps the other thing that drew me in is that she too is a recovering fundamentalist. No, that's not right, she seems fully recovered. You can tell. I picked up—and this is something always remarkable when spied in people—that she is hitting on that critical balance between rebel and mystic. (Something foreign to both fundamentalists and mere subversives.)
It's important here to mention, and thank, Don Sedgwick of the University of King's College in Halifax. He's the Executive Director of the new MFA program in Creative Nonfiction. Also appreciated his facility and wisdom with "What's going on in the writing industry." The other thing that's important to remember is that Don brought the wine, I mean, King's sponsored the reception.
Later that evening, we participated in selecting the Readers Choice Award. Nine nominations from across the map—this is no insular group. All provocative pieces. All daring, all deserving.
And finally, the following morning: what would a conference be without a business meeting? Well, yeah, a party. But think balance. 'Cause it's grindstone stuff that put this all together, and it's grindstone stuff that has, and will, spur the collective and nurture the genre. Something the board knows all too well.
And at the end, more fitting than re-renaming The Banff Centre to The Banff Centre of the Arts, (either way, a glorious place for a conference) was the standing ovation for Myrna K., honouring her near ten years of service, seven as president of the CNFC.
Conference conclusion? The beloved genre is blooming.