Spring is breaking up the ice, the rivers are awakening…
What sets a canoeing expedition apart is that it purifies you more rapidly and inescapably than any other travel. Travel a thousand miles by train and you are a brute; pedal five hundred on a bicycle and you remain basically a bourgeois; paddle a hundred in a canoe and you are already a child of nature. – Pierre Trudeau
When you look at the face of Canada and study the geography carefully, you come away with the feeling that God could have designed the canoe first and then set about to conceive a land in which it could flourish. – Bill Mason
Old Town Canoe
This is not about the time we
met a couple in a beat-up Grumman,
while paddling the Athabasca
from Fox Creek to Fort Assiniboine,
and at daybreak
were invited for bannock.
It's not about the time on the upper McLeod,
dumped out at the end of three ledges,
our canoe split in half,
later rescued by four women,
from an Edmonton canoe club,
who navigated those sweepers and ledges
like old lovers.
And it's not about the time I watched
Waterwalker,
listening to Bruce Cockburn and Hugh Marsh,
while Bill Mason was doing
canoe ballet on some
river north of Lake Superior.
Nor is it about the night
on the Pembina
we were kept awake
by river coal exploding in the camp fire
and beaver building futures.
It's about an evolving love, now and older,
stronger love. It's about the time my love and I
paddled the day away on a slow river,
over sleepers and small rapids,
with blue heron and red-tailed hawk
under an everlasting sun,
and we again pledged, our still young love,
with the Old Town canoe as our witness.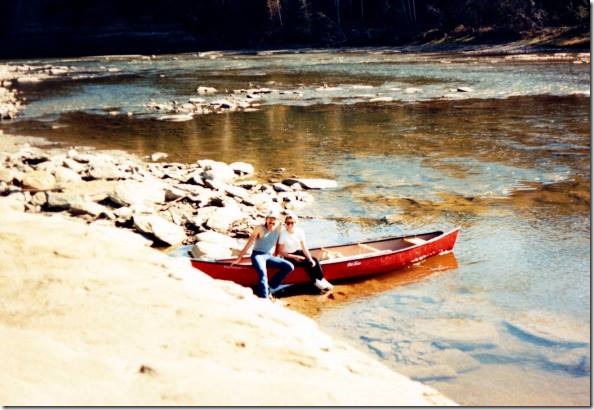 This was taken in 1987 on the Pembina, miles upriver from Entwistle, Alberta. I remember setting up my old Insta-Matic, clicking on the 10 second timer, and almost killing myself running down the clay bank to get this shot. Deb laughed.